5 (Thrifty) Winter Activities to Keep Your Kids Entertained Over the Holidays
by Magical Credit
Both parents and children alike are anticipating the holidays.
But parents are cautiously approaching the break with a 'how do I keep these little ones fed, clothed, and entertained for two weeks straight?!' mindset, compared to their kids, who're more like, 'I can't wait to be fed, clothed, and entertained for two weeks straight.'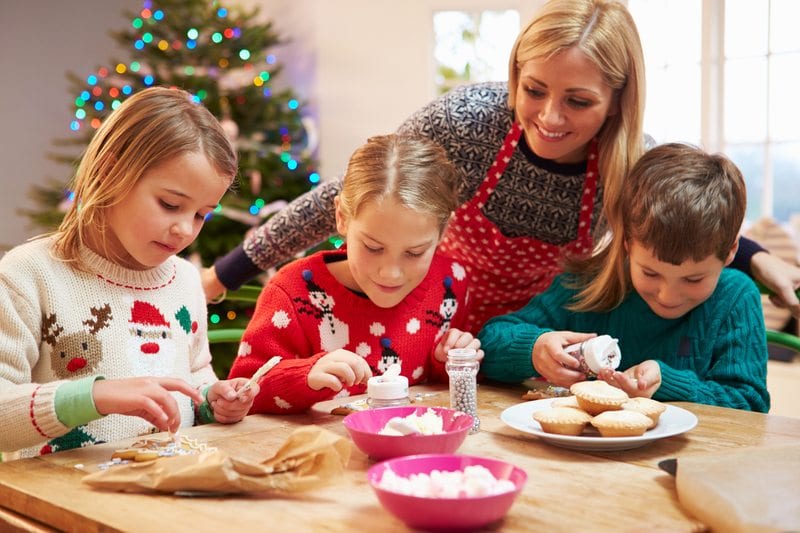 We hope the former two can be taken care of with ample amounts of fruitcake and itchy Christmas sweaters, though we'll admit the latter can be tricky. That's especially true if you're looking for cheaper winter activities for kids, as most outdoor winter activities can be pricey, like hockey or skiing.
To keep your kids out of your hair busy over the winter break, check out these thrifty family winter activities gushing with Christmas spirit.
Volunteering
Not only is volunteering an activity that builds on the feel-good vibes of the holidays, and something the entire family can participate in, it helps your kids understand what's really important this season.
There's never too many volunteers at local animal shelters and homeless shelters in the winter, but you don't need to go far to make a difference in the community. You and your kids can help elderly neighbours adorn their home in decorative cheer, or act as a helping hand while they finish their holiday shopping.
Nature Walks
The beauty of nature walks is they're available year round, and you can never go wrong with the price.
It's another activity that encourages being together as a family, as well as an active lifestyle. Plus, there's no better way to truly enjoy the wonders of wintertime than immersing yourself in the center of it.
For an extra bit of distraction – er, fun – you can send your kids to look for festive, nature décor. Pine cones and twigs can be collected for a holiday arts & craft project when you get home!
Holiday Scavenger Hunts
If your kids are through looking for pine cones and twigs like little squirrels, you can set up a holiday scavenger hunt. You can establish a scavenger hunt virtually anywhere that's safe for your children to explore, though one of our favourites is the holiday library scavenger hunt. After all, we all know how much kids appreciate combining fun with education. …Right? Right?
Creating a library scavenger hunt is simple – there's no need to break in a head of time to find obscure hiding spots. Just create a list of holiday-related books that your children need to acquire for points.
Your list could look something like this:
Find a nonfiction kids' book about Christmas
A book with the word 'Santa' in its title
A book about Christmas that'll make you laugh
A book about winter traditions in other countries
A book of Christmas carols, songs, or poems
When they're done, you can check the books out for some quality holiday reading the whole family can get involved in. And you'll know your kids will enjoy the stories, seeing as they picked them themselves.
Having your kids familiarize themselves with the library, and how to locate specific books, is also a useful skill that'll hopefully inspire more trips to the book depository in the future.
Dessert Decorating
Don't worry – even if you're not a Cake Boss, you can have some family fun in the kitchen with some dessert decorating.
You can simply buy pre-made cookie dough and decorating supplies for around $10. As long as the dough is edible, it'll do the trick as your cookie canvas.
It encourages having the family together, working and sharing with one another, and results in a nice stash of holiday treats to enjoy around the Christmas tree.
Find Local Plays
We had to include this as a longtime favourite of ours. Your local theatres or community centres will be bursting with a host of holiday shows or plays to enjoy as a family. In the spirit of the season, the majority of these shows are discounted or free, too.
So pack some hot chocolate to go, maybe a blanket or two, and find a classic Christmas tale (we recommend A Christmas Carol) to settle into.
---
If you still find yourself short on cash over the holidays, Magical Credit offers poor credit loans online for anyone with a source of income, and a proven loan repayment history.
Apply for a loan with poor credit today by submitting our online application, or contact us at 1-877-213-2088.
Happy holidays!