5 Ways to Save at a Blue Jays Game
by Magical Credit
We're entering the dog days of summer. It's time for sweltering heat, sweaty brows, the enchanting aroma of sunblock in the air, and most importantly—the mid-way point of baseball season.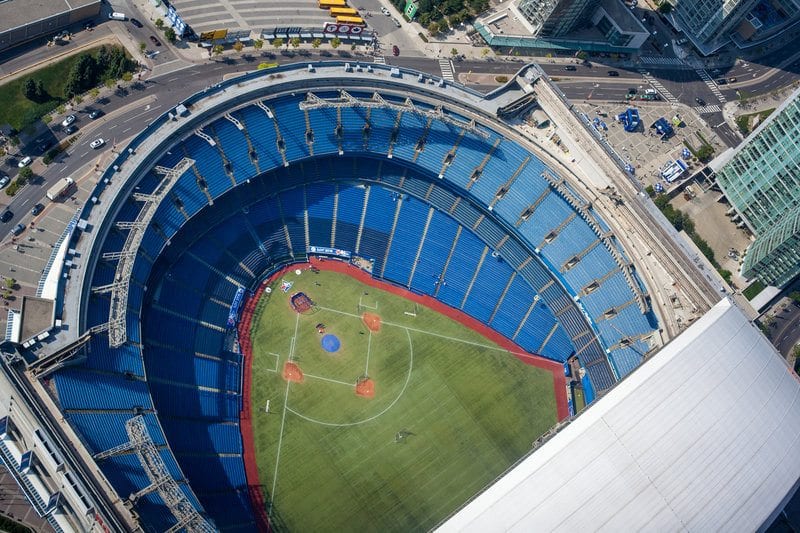 The 162-game marathon season makes it hard to care about those early April-June games. The games take on a sense of urgency in July as MLB teams jockey for post-season play, creating much more impetus to catch a live game.
The Blue Jays are Canada's ball team, and The Roger's Centre is the place to be to get your baseball fix. Finding cheap things to do in Toronto is always difficult, and a day at the ballgame can be a costly endeavour.
So, here are a few ways to help you navigate Toronto on a budget, allowing you to maximize your baseball experience while minimizing its damage to your bank account:
1. Drop the Car, Catch the Bus
Parking is tough to find in Toronto, but more pressing is that it's ludicrously expensive. It'll cost around 20 dollars if you're able to find a parking lot, since those private lot owners are more than happy to gouge you.
Thankfully, the TTC only costs $3.20/ride and drops you off at Union Station, a short walk from the Rogers Centre. Living out of reach from a subway station means taking GO Transit, where a day pass usually won't cost more than $20, on top of leaving your gas tank untouched. The GO also drops you at Union Station.
Don't drop the ball by taking the car – catch the bus because public transit plays the best defense for your bank account!
2. Enjoy Life from the Nosebleeds
Don't get suckered into the expensive seats at a ball game. Prices do vary depending on the visiting team, but you can still purchase a 500-level ticket for around $15, while the more expensive seats are anywhere between $60- $250.
Nosebleed seats behind home plate provide as good of a view as field level seats - in fact, you could argue that it's a better view, since you can see the whole field.
Plus, people in the cheap seats tend to party the hardest, and have the most fun.
3. Bringing your own food and drink is like an intentional walk
$4.50 for a bottle of water? $5.25 for a hot dog? $12.00 for a sandwich? That's a resounding 'no thank you'!
People used to slyly sneak their own food and beverages into the stadium in order to avoid those astronomical prices. Nowadays, according to the Rogers Centre policy, fans can bring in food as long as the items are wrapped, bagged, or kept inside a container.
Rogers' new policy is giving you a free pass to save money. Swinging for Rogers Centre food would be like striking out on a ball in the dirt with the bases loaded!
4. Alcohol: The Metaphorical Spitball
In order to save money on alcohol, we suggest enjoying a few frosty beverages at a nearby pub before and after the game. Or, improve your drink smuggling skills. Otherwise, you'll be dropping nearly $15 for a tall can of beer you can buy for $2.50 at the local LCBO…but we don't officially condone that kind of behavior, of course.
5. Purchase Your Major League Merch from the Minor Leagues
Buying an official replica Toronto Blue Jays Jersey costs hundreds of dollars- a no go if you're on a budget. Even standard hoodies and t-shirts are at least around $50 and change.
If you want to adorn home colours, don't waste big league dough at big league stadiums when your finances are still developing in A-ball. You can buy Blue Jay hoodies and t-shirts from Wal-Mart for between $10-$20. Yeah, it's not major league official, but you won't look out of place in the sea of blue created by the Roger's Centre faithful.
---
If you don't have the money to go catch a ball game, Magical Credit offers bad credit, short-term personal loans in Toronto, Ontario, and everywhere else in Canada - other than Manitoba and Quebec. Don't let bad credit and a shrinking bank account stop you from experiencing your city to its fullest!