7 Money Lessons to Teach Your Kids While Back-to-School Shopping
by Magical Credit
For most parents, back-to-school season is a stressful time. It requires a lot of planning, budgeting, and painful spending. According to the National Retail Federation, this year's back-to-school season spend will be $75.8 billion for Americans. According to a survey by RetailMeNot.ca, Canadians will be spending an average of $472 per child, versus last year's $329, for back-to-school shopping - $1,630 for university students, $412 for high school students, and $318 for elementary students.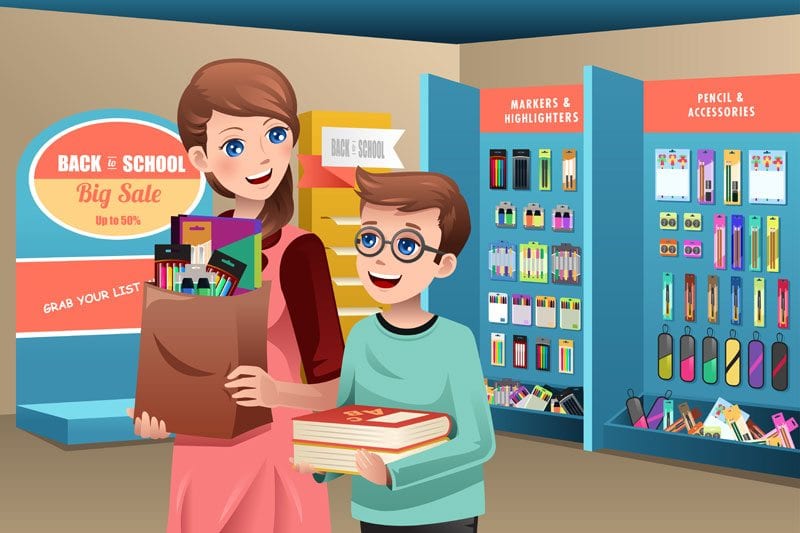 Going back to school doesn't have to only be a challenging feat. It can also be a great opportunity to teach your kids some valuable lessons. Try adding some money lessons into your back-to-school activities. Having money smart kids makes financially stable adults. After all, you are raising future adults, and not just kids.
Why is back-to-school shopping a great time to teach them? Because kids have a vested interest, they are the ones who will benefit from the activity. They are the ones who will be using those pens, writing in those notebooks, and rocking that back-to-school fashion for the rest of the year. Use this as their motivation to learn the value of money and making smart choices.
Here are some money lessons you can teach your kids while back-to-school shopping.
Lesson 1: Budgeting
It's always good to start the back-to-school shopping process with a plan. You can start by talking with your kid about what they need and want for the coming school year – gadgets, clothes, books, and school supplies. Help your kid come up with a list that includes a price column. This way, your kid can see how much it would cost to buy everything.
Lesson 2: Comparison Shopping
There are many back-to-school shopping options online. Show your kid how to look up prices online, seek deals and sales, and buy secondhand. Going through price options can give your child an idea of how much each item costs and the price range for that item.
Lesson 3: Needs vs. Wants
This is one of the most important lessons. Knowing the difference between needing a backpack and wanting an Avenger or Disney princess on it is something that can determine your kid's ability to live within his/her means as an adult.
When you hear those two overused words that kids love to say - "I want" - tell your kid to think of the basic version of that item. Teach your kid how even the basic version can fulfill the same need. Explain that wanting things is natural. Encourage your child not to be defined by brands and to find value in what is useful.
If your kid insists on the branded version of the item, challenge him/her to use his/her own money for the upgrade. Offer a means to do so by either earning it through chores, saving from allowance, or borrowing money. Those are other money lessons you may want to teach them too.
Lesson 4: Trade-offs
When you shop on a budget, you can teach your kid how buying items can limit the ability to buy another. Explain the concept of spending priorities. Give your kid scenarios where a choice has to be made between an item he/she wants versus getting additional items he/she needs. "Do you want a pair of $100 shoes, or a pair of cheaper shoes and an extra pair of pants?"
Lesson 5: Finding Value
Just because it's expensive doesn't mean it's the best. Just because it's the cheapest doesn't mean it's the best value. Examine items with your kid. Show your kid what good quality looks like and how to estimate the longevity of that item. Explain the idea of "cost per wear" - how a $100 pair of jeans worn 100 times has more value than a $40 pair worn 10 times.
Lesson 6: Overspending
Teach your kid how to spend within a budget. If there are a couple items on the list that may have exceeded the budget, show your kid how to return items back to the store. Explain to your little one how to resist impulse buying and the value of delayed gratification.
Lesson 7: Spending in Cash
Back-to-school shopping in cash may seem a bit more troublesome at first. But when you see your kid understanding money better because of using cash, that extra bit of hassle is well worth it. The psychological pain of handing over cash can help your kid value money better. It also helps your kid understand spending limits. You can even challenge your kid to spend below the budget so that he/she can keep whatever is left.
Keep in mind that each kid is different. Be sensitive to the amount of money lessons your kid can handle. You don't want to overwhelm your kid in the process. Learning should always be a positive experience. This would encourage your kid to not only remember the lessons you taught, but to practice them for the rest of his/her life with fond memories.
If you need some extra cash to fulfill your back-to-school shopping needs, Magical Credit offers short-term loans between $2,000-$10,000. To find out if you qualify for a loan, call 1-877-213-2088 now!