Eating Healthy on a Healthy Budget
by Magical Credit
When your debt has you thinking 'cost reduction' and 'cost control methods' everywhere you are, you might find yourself having to compromise on the foods you eat for the sake of a couple bucks. Processed, artificial foods are much cheaper than the quality, organic produce you really should be eating. Or is it?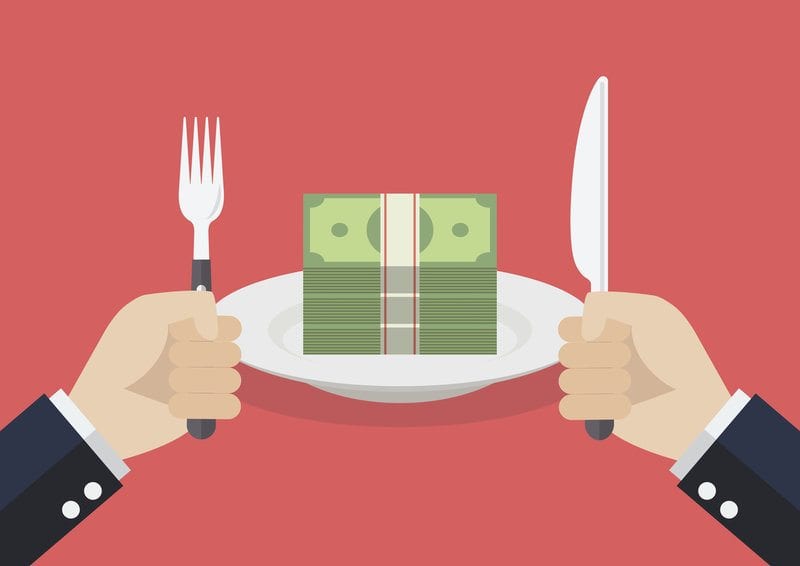 Here are 10 cheap dinner ideas you should definitely consider:
10. Salmon burgers and pinto beans
You don't have to splurge on fresh salmon at the local market for a delicious omega-3 packed meal. Save money by purchasing canned salmon. It's just as nutritious, but far cheaper. Fry up some salmon burgers with a side of mashed pinto beans (cooked on a stove with garlic and spices). This is a fiber and protein filled meal that everyone will enjoy.
9. Chicken breast and quinoa
The possibilities are endless with this one. Chicken breast is a great healthy and cheap dinner idea, because it's inexpensive, and filled with protein. Not to mention, there are countless ways to cook it. Whether you want homemade chicken nuggets, schnitzel, gyro, or grilled chicken, you could serve chicken breast every day of the week, and your family wouldn't even notice. Side that with some quinoa (which contains all 9 amino acids), and you have yourself a cheap, healthy, gourmet feast.
8. Tofu and brown rice
Because tofu can be made in so many ways, it is a cost control method on its own. When made right, it is basically impossible to not like it. Pan-fried tofu with veggies is incredibly healthy, and (as long as you don't tell the family that they're eating tofu) everyone will love it! Serve over brown rice for an authentic Chinese cuisine.
7. Oatmeal with fruit
This is the kind of thing you might not think about, until you see it in a Quaker commercial and think, 'gee, does that ever look good!' Selling for around $1/lb in bulk, it is great way to save money, and fill yourself up in a way you can really feel good about. Mix in some fruit or nuts of your choice, and you have yourself a delicious meal that is easy on the body, and even easier on the taste buds.
6. Whole-wheat pasta and tomato sauce
Whole-wheat pasta is essentially a starting point for any great meal. It has a distinct nutty flavour, and more fiber, antioxidants, and protein than regular pasta. Stir fry some veggies and tomato sauce on top, and in under an hour, you'll have a meal that the Italians like to call 'delizioso!'
5. Popcorn
(Disclaimer: This is more for a 'cheap snack ideas' list than a 'cheap dinner ideas' list, but it is a cost reduction idea nonetheless).
Aren't you happy to see this on the list? I mean, who doesn't love popcorn, and now we're validating it as a perfectly healthy, affordable way to satisfy your midnight munchies! It's a great source of fiber (as is almost everything on this list), and you can personalize it by topping it with your favourite spices. Cinnamon, sugar, salt, whatever it is, just sprinkle and enjoy (and enjoy you will)! Although we wouldn't recommend the boxed variety of 'extra supremely insanely buttery' microwave popcorn you buy in the candy aisle, stovetop or kettle corn is perfectly innocuous, and perfectly delicious!
4. Parfait (yogurt and granola)
(Disclaimer: This would be possibly better for a 'cheap breakfast ideas' list than a 'cheap dinner ideas', but it's so delicious, it could still be a good dinner for one).
This is the kind of thing that when the stores sell you pre-packaged, they charge you an arm and a leg for. Newsflash: parfait is just granola and yogurt! It's so easy to make yourself, so filling, and so cheap. Buy a large container of your favourite flavor of yogurt, and a bag of granola (or fresh fruit and nuts). Mix and match to whatever proportions you desire, and say hello to the perfect start to your day!
3. Chicken burgers and onions
While this is slightly more expensive than the rest of the meals in the list, it's still much cheaper and healthier than a normal burger meal. And oh, so much more delicious! With ground chicken, fry up some chicken burgers in the same pan as sliced onions. No need for oil (maybe a little vegetable oil to avoid sticking), because the oils from the chicken burgers will seep into the onions, creating healthy, chicken flavoured fried onions and burgers. Not to mention, no need for buns! Because let's face it; anything added to this meal just ruins it.
2. Sweet potatoes
Of all ways to save money at the grocery store, this would be one of the most effective. In Britain, these are called Jacket Potatoes. In Canada, it's a baked potato. Whatever you call it, it's perfect; perfectly healthy; perfect for cost reduction; perfectly simple. Bake it in an oven, or cook it in a microwave. When it's done, cut it open, add a little butter, and baked beans, cheese, tuna, salad, or anything else that tickles your fancy (sorry, I'm still talking British). Plus, the skin contains fiber, beta carotene (which converts to vitamin A in your body), vitamin C, vitamin E, potassium, and iron (so make sure not to leave it on your plate).
1. Eggs (however you like)
You knew it was going to be on the list. Eggs, are jam-packed with protein, and are so dynamic (scrambled, fried, poached, boiled, egg salad sandwich, however you like it). We could go on, but there's nothing here we can tell you that you don't already know. They're delicious, healthy, and a great way to save money. And they work for breakfast lunch or dinner. Not to mention, they can go with almost anything.
---
When it seems like you're always in debt, it really helps to know how to save money, and how to spend money. That's where we come in. At Magical Credit, we understand that every penny saved is a penny earned.
Call us today at 1-877-213-2088, or fill out our online application to see if you qualify for a short-term loan!