Four Tips to Save on Back-to-School Shopping
by Magical Credit
It's the most wonderful time of year (for parents): sending your kids back to school is just a few weeks away.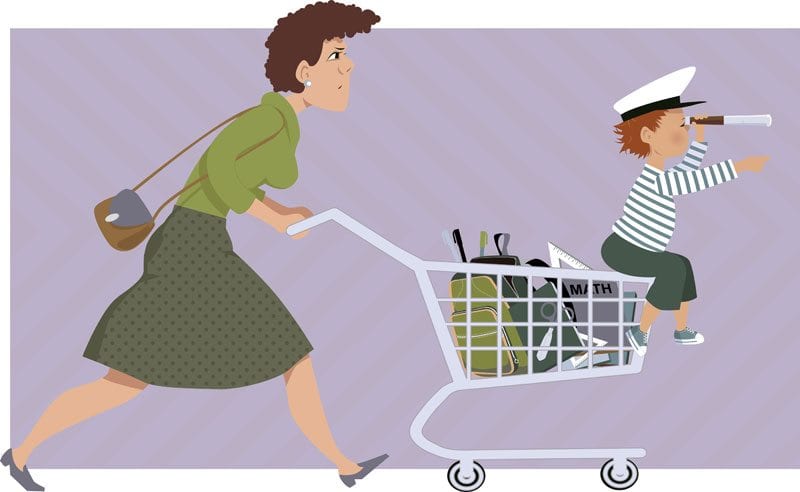 That has a different meaning for both parent and child. For the kids, it's a time of sorrow, and an opportunity to show off that Pokémon Go collection amassed over the summer. For parents, it means a 400% increase in late nights, helping their children with last minute projects they never mentioned until the night before.
But before the fun begins, you need to get your kid prepped to learn with the annual back-to-school shopping excavation. The moment July hits, retailers kick off their two-month marketing ploys to get parents into stores ASAP. Shopping for school supplies early is always good, though there are still plenty of deals to be found in August.
Follow these four back-to-school shopping tips to save yourself some money, time, and sanity in the stores.
Start with an Inventory Check.
Back to school shopping starts at home. Your house could be a pseudo-store of school supplies in itself, with pens, papers, and notebooks hidden away in closets, desks, and drawers.
Scour these areas, and round up all the school and office supplies that are still in workable condition. Keep them together, and make an inventory list of what you do have. Have the list handy, either in your pocket or car, for when you're shopping for those few missing items your child still needs.
Here's a standard school supplies list, which includes items likely laying around your home somewhere:
Pens, pencils, markers, highlighters
Erasers
Rulers
Notebooks, loose-leaf papers
Binders
Calculators
Art Supplies
Post-It Notes
Don't forget to rummage through your kids' closets, too! They may have outgrown or outworn their school clothes from last year, so either donate or toss them. This will give you a better picture of exactly what you'll need to buy, without the risk of purchasing something your child already owns.
Set Limits; Discern Wants from Needs.
If your kids are a little older, there's no doubt they'll want the coolest and latest back to school clothes and gear.
The 'coolest supplies' aren't synonymous with best-value supplies, or durable supplies; in fact, specialty, branded products – say a Miley Cyrus notebook – are usually cheaply made. Not only will these branded school supplies or clothes get destroyed quickly, your budget will be swiftly crushed in a similar fashion.
Be firm and set limits on school materials and back to school clothes. Talk to your child about money-based values. You can even show them the difference between a trendy, poor-quality store item and a solid, built-to-last product that has everything they'll need besides the logo.
If you have some bonus funds at the end of the shopping excursion, you can buy your kids that Justin Bieber lunchbox that'll make them the talk of the lunch room.
Look for the Basics, in Bulk.
When it comes to back-to-school shopping, apply the Costco Laws of Commerce: buy in bulk.
Near the end of the summer – so, right now – is when you can find pens, papers, and other supplies on a great deal, which you should take advantage of. Stock up on enough goods to get your kid through the rest of the school year.
Not sure you can use that entire 100-pack of pens? Talk to friends, neighbours, and other parents at your child's school; they may want to split the costs on supplies, making a year's supply of pens criminally cheap.
Keep an Eye Out for Educational Discounts.
For courses that require computers and software, you can sometimes find educational discounts for a substantial back to school deal.
Some computer or software companies offer premiums on their products, heavily discounted for students and teachers. All your child will need is their .edu email address, or proof that they're using the software for school purposes.
The Adobe Suite of multimedia programs is a great example, as they practically give away the Photoshop, Dreamweaver, Illustrator, and the rest of their software to secondary students enrolled in media courses.
We know you don't want to be reminded about school, but the sooner you get that back-to-school shopping rolling, the more time you'll have to hunt for the best deals. And remember to distinguish between your kid's wants and needs!
If you need a bit of extra cash flow to capitalize on some back-to-school deals, Magical Credit provides short-term loans for anyone with a proven debt repayment record, and steady source of income.
To see if you qualify for a loan between $2,000-$10,000, call us today at 1-877-213-2088!