5 Steps to Building an Emergency Fund
by Magical Credit
"Life is like a box of chocolates – you never know what you're going to get."
We hate to pick on Mrs. Gump's famous words of wisdom, but come now: a box of chocolates? Life is more like a box of Beanboozled - you either get the yum, or you get the yuck. Like, seriously yuck.
Life is full of surprises, and they're more often bad than good. Whether it's a shrimp boating accident, helping Lieutenant Dan get back on his 'feet', or an unexpected injury or illness to Jenny, most emergencies will cost you a hefty amount of dough.
That's why allocating your money towards building an emergency fund is so important! If you're in a financial crunch, your emergency savings will give you the safety net to fall back on until you get back on your feet.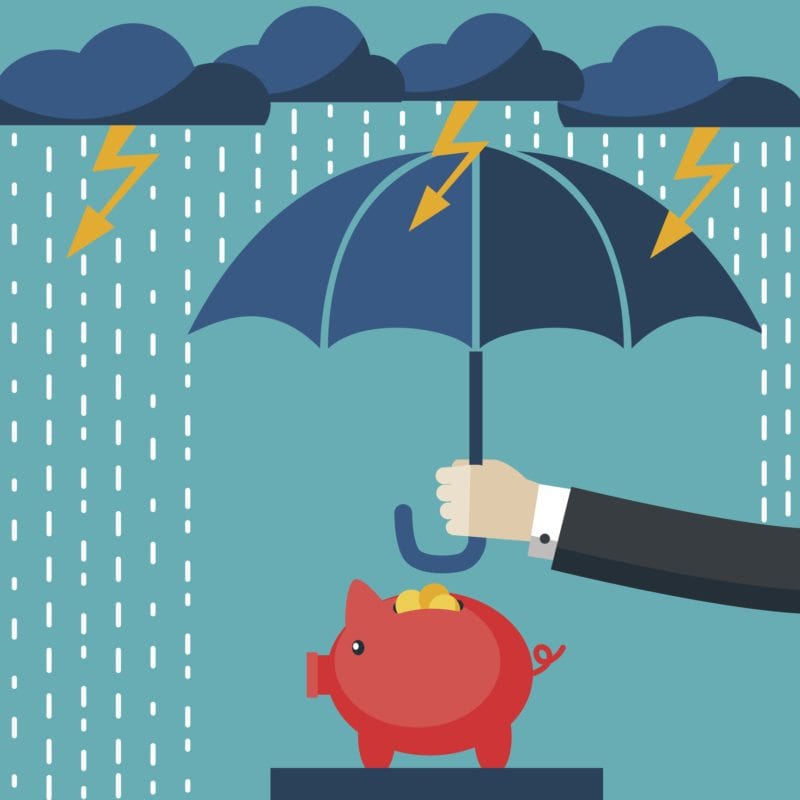 But stupid is as stupid does. It can be hard to squeeze out a few dollars from each paycheque to fund your emergency savings account. Here are 5 steps you should follow to start saving for an emergency fund.
1. Analyze Your Expenses
First thing's first – you need to begin by looking over your list of expenses and organizing them into specific categories. This is the start to any form of financial planning! It's absolutely important for you to get a handle on where and how your money's spent.
And hey, you never know - you might find that you have unnecessary bills sapping your wallet without you realizing. For instance, you could be subscribed to Netflix you rarely use, or perhaps be paying for premium cable channels that you never watch!
Whatever it is, you'll never know until you start looking.
2. Review Your Budget
Now that you've gone over your list of expenses and categorized them accordingly, it's time for you to review your budget.
As we discussed in our January blog, budgeting is an important component of financial success. How can you even think about saving for an emergency fund if you spend blindly on a whim?
Let's say your previous grocery bill came to a whopping total of $400, and you decide to cut it down by a $100 – all of which will be going into your emergency savings account.
Not only will your newly imposed budget keep you focused on buying the stuff you actually need, it'll also encourage healthy spending habits that will elevate you to the next milestone!
3. Start an Emergency Savings Account
Keeping your emergency fund saved in your chequing account is often a very bad idea. Because let's be honest – there are more exciting ways to spend money than to save it for a rainy day.
That's why you should open an emergency savings account, which should be kept separate from your daily transactions. After all, you are your wallet's worst enemy!
Having a separate account builds a psychological wall between the money you should and shouldn't spend. If you pool them all together, you'll definitely be tempted to make reckless decisions.
And as required with any changes to your personal finance, you should sit down and do some research. Search for a financial institution that offers the lowest interest rate and fees on their savings account plan. They may also charge you for additional fees, so look into that as well.
4. Automate Deposits
Now that your account is all set up, your next step should be automating deposits directly into your savings account. You can easily do this yourself through online banking, or by making a quick visit to your financial institution.
Building an emergency fund is similar to paying a monthly subscription. Incorporate your emergency fund deposits into your budget, and do your best to make a payment at least once a month, as you would with your other bills.
And once again, the last thing you want is for the money to be sitting in your chequing account. We all know how difficult it can be to resist the urge to splurge on impulse purchases! Think of all this as precautionary measures to protect you from… yourself.
5. Start Low, Aim High
Although financial experts recommend that you should save at least 3 to 6 months worth of living expenses stored away in your emergency savings account, that's not the target you should be starting with.
The sheer thought of building an emergency fund of such a magnitude could be intimidating. While it's good to be in the spirit, you've got to learn to walk before you can run! If your goal is too unreasonable, chances are, you're going to give up.
So start with baby steps. Your initial goal should be building an emergency fund of $250. That's an objective you can reach in a few months, or even less, depending on your frugality. For instance, if you save $25 a week, you can have $250 in your emergency savings by the tenth!
Remember – it's all about staying motivated. Start low, but aim high! Once you hit a milestone, keep up the momentum and strive for higher ground. In due time, you'll find yourself with a hefty sum in your emergency savings account!
---
Regardless of how diligently you've been building your emergency fund, there are some financial crises you can never be prepared for.
But don't worry - that's where we come in to help. If you're in immediate need for cash, Magical Credit offers cash loans between $2,000-$10,000 to anyone with a steady source of income or government subsidy such as a pension plan.  
If you'd like to calculate the interest on our loans, or would like to find out more about our loan repayment term in general, check out our personal loan calculator online.
Apply for a loan today by submitting our online application, or contact us at 1-877-213-2088.