Back to School Shopping Savings Tips: Elementary School Edition
by Magical Credit
That back-to-school commercial was from 21 years ago. Sadly, if you remember it, you're probably one of the crestfallen children whose parents gleefully rubbed salt into their end-of-summer wounds.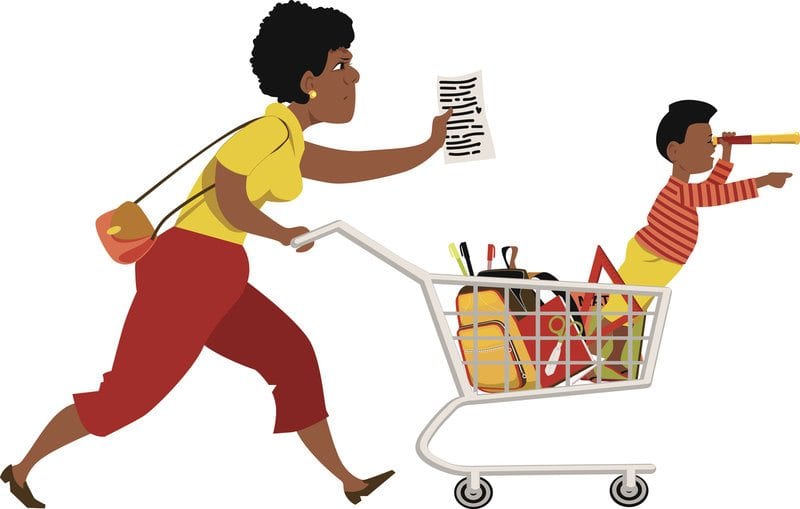 But now the shoe is on the other foot, and your children's reign of fun-in-the-sun terror is coming to an end. You used to relate with the children in the ad, and now you relate with the father - it's what's referred to as the circle of life.
At Magical Credit, we want you to revel in this joyous occasion - but not to the detriment of your budget conscious back-to-school spending! These cautionary back-to-school tips will help ensure your finances aren't flunking out:
Caution: Children Are the Best Salespeople
It's the same old story - children want something, and systematically break down the will of their parents to get what they want. An experienced retail salesperson recognizes the signs of a browbeaten parent, and capitalizes on the hard work already done for them.
Planned budgets are disregarded because children don't want to seem "uncool" at school, and parents don't want to be endlessly pestered.
How to save: Stick to your planned budget, tuning out cries and pleas for big brand, needless items. Your children are going to have to accept that financial security is more important than being that guy with the most up-to-date fidget spinner.
Warning: Bad Lunches Lead to Worse Grades
Children are like cars - they cost too much money, emit smelly gasses, and are bad for the environment.
Sorry - we couldn't help ourselves - but the analogy does fit. Your young ones need to be optimally fueled to be efficient. Don't stuff their lunch bag with low quality food that'll give them a stomach ache or make them sluggish for the sake of time and money. Conversely, don't over spend on pre-made meals from Whole Foods just to save time. There's a middle ground!
How to save: Plan lunches for the week, and research local grocery stores for sales. Make lunches based around healthy ingredients that are on special. Not sticking to a plan could lead to slap-dash, last minute efforts- meaning overspending or under-packing, and neither is ideal. Make sure the little versions of you have the energy to keep their teachers on their toes.
Note: Last night's leftovers offer another method in maximizing the savings on your weekly groceries.
Danger: Blandness Kills Excitement
If a child has bland, colourless supplies, they'll look at school in a similar vein. You want your kids to be as excited about going back to school as you are about them going back to school.
Enthusiasm makes for better students. This doesn't mean blowing your well-earned money on trendy, name brands. After all, genuine excitement can't be bought!
How to save: Buy cheap, no name supplies, or give the little tykes your own supplies. They can then personalize their back-to-school materials by using stickers, markers, water colours, or whiteout to decorate pencil cases, binders, pens, pencils, rulers, and protractors. They'll be excited to show off their custom supplies on the first day of school, and you barely had to spend a dime.
Another note: Personalizing their supplies can also aid in personal loss prevention, since nobody will mistake these one-of-a-kind items for their own. Lost pens and pencils are an inevitability, but the more you can stave off those losses, the more you can save.
Bonus Warning: Your Children Grow Like Mutant Weeds
Some well-meaning parents attempts at saving include purchasing winter apparel during August. Winter boots, for instance, are inexpensive during the off-seasons. It makes sense in theory, but children grow at an exponential rate, making offseason purchases a waste. Winter boots that are one size too big in August could be two sizes too small by January!
How to save: Do your research on nearby stores with clearance racks, where you can buy quality items at a fraction of their usual price. Don't expect stores to have clearance racks or sales items, or else you'll waste gas money on unsuccessful shopping ventures. And ALWAYS shop in-season with your children, so you know you're buying something that'll actually fit them.
---
We could offer all of the back to school savings tips for your children's school supplies, lunches, and clothing - but if you don't have the funds, they won't help you.
You could apply for a personal loan, but if you have bad credit, getting a loan is akin to getting 100% on a math exam. Thankfully, Magical Credit's easy approval, personal loans are catered to anyone with a source of income and proven debt repayment history.