10 Must-Do Things After You Finally Become Debt Free
Paying all of your debt and being free from such obligations is one of the most satisfying milestones of your life. Imagine not having to worry about payments and grinding your way to make enough money to write them off.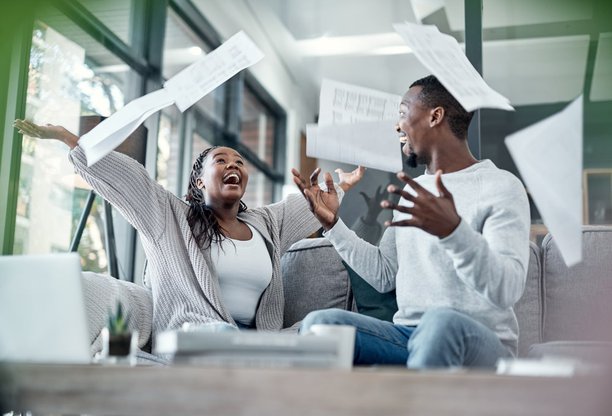 If you have recently been debt-free, you deserve our heartfelt congratulations. However, there is still a looming question that everyone must face after being debt-free, and that is, "what am I going to do now?"
What to Do After Being Freed from Debt?
Getting out of debt is just the first step of attaining true financial freedom. But with debt out of the way, you can now set even bigger and more exciting goals such as buying your dream home, retiring early, or even doing your hobbies more frequently.
1. Run a Credit Report on Yourself
Knowing where you are in terms of your credit is due diligence that you should perform every year. Even if you think you've paid off all your debts, you should still conduct one to ensure that you didn't miss any payments.
In Canada, you are entitled to at least one free credit report every year from national credit reporting companies such as TransUnion and Equifax. When reading the credit report, take a few minutes to look at all your credit for the past decade.
If you find an unpaid debt, make sure to clear it as soon as possible. If you have cash on hand, don't hesitate to spend it.
2. Create a Plan for the Future
Even before you become debt-free, you must plan what to do with your money when you can keep a more significant chunk of it. This plan will save you from going back to your debt-ridden days and chart a more meaningful financial life ahead.
Your plan can have multiple goals, such as increasing your cash flow or finally finishing that dream project that got delayed.
Make sure to create plans with clear and reachable goals that follow the SMART rule:
Specific - it should be straightforward enough that you can focus your effort on it.
Measurable - the progress toward the goal can be tracked and assessed quantifiably.
Achievable - it should be realistic and attainable during the time frame you set.
Relevant - the goal matters to you, your partner, or your family and is worth doing at that point in your life.
Time-bound - it should have a target date and a timeline to prevent you from switching priorities.
3. Reward Yourself
One of the things that can help you get motivated to pay off your debt is the reward that you will give yourself. While people usually have different tips that they want, never forget to fulfill the promise you've made for yourself.
The reward often doesn't have to be fancy or expensive. You may even prefer that it's something you can keep as a token or a reminder of your financial accomplishment. However, don't go overboard on your spending and buy only things well within your budget.
4. Keep Your Credit Cards Open
If there is anything you could ever learn from using credit cards, it's that they can rack up a lot of debt when used frequently. However, instead of cutting off these plastic cards, keep them open.
This decision will help you maintain a healthy credit score, primarily if you have used the cards for several years. Furthermore, you should keep a decent amount on these credit cards to boost your credit score.
A person who has a good credit score has better chances of securing loans, mortgages, and other financial services. Your credit score may also affect how landlords, employers, and insurance companies will transact with you.
5. Build a Bigger Emergency Fund
Back when you are paying debt, you only have a small emergency fund that can last you a few months if you ever resign or get laid off from your job.
However, now that you can afford more cash cushion in your life, it's essential to keep having an emergency fund you can rely on during unexpected events. After all, you don't want to get blindsided by an incident that will take you back to amassing debts again.
This time instead of a few thousand dollars, you should aim for an emergency fund worth $10,000 or more. You can also set up a monthly automatic transfer to a high yield bank account dedicated to your emergency fund only.
6. Set up a Car Fund
Spending money on your car is one of the necessary evils you have to live with. After all, you don't know when you need your vehicle to be repaired or replaced entirely in the next decade.
Setting a car fund of at least $300 a month is beneficial mainly for people who use cars as a mode of daily transport to their workplace. You also should put the car fund in a high-interest saving account so you can get out more of your money.
When that money reaches a level where you can buy a new automobile, you can take it out and purchase it. Or, if your current car is still in great shape during that time, you can instead transfer the money into a retirement fund.
7. Start Investing for Retirement
At some point in your life, you also want to stop working and still have a cash flow that can support your daily needs and occasional leisure. However, wouldn't it be better to retire early rather than wait until you become a senior citizen?
The best thing about early retirement is that you still have the energy to do the things you love, such as traveling to different places. Hence, it would help if you planned out your retirement while still young and could perform at a level you can't do when older.
One of the budding financial movements you can look into is Financial Independence Retire Early (FIRE). It teaches you to lower your expenses, get a high savings rate, and invest as much money into retirement.
8. Begin Building Your Wealth
Now that you have paid all of your debts, you must start thinking about building your wealth. There are essentially three things that you can do to make more money through passive income:
Start a business

Invest in real estate

Put your money in stocks
Each one has varying degrees of risk and requires different skill sets for you to succeed. If you feel that you aren't much of a risk-taker, then it's best that you first secure your retirement fund. Moreover, building your wealth requires a lot of learning new things and trying out different strategies.
It would be helpful to hire a financial coach or get advice from people who already made it big in the industry where you want to build your wealth. Of course, this also entails that you develop your social network and get into certain circles.
However, once you succeed in any three industries, living your ideal life will be much easier.
9. Hire a Financial Adviser
If you think that a financial adviser only caters to the needs of wealthy clients, think again. Nowadays, financial coaches and advisers are also willing to offer their service to people who want to do well with their money.
Hiring a financial adviser can also help you chart where you want to be in terms of your financial health. Moreover, they can also explain the different investment options on the market, their risk and rewards, and the various requirements to enter each investment.
Your financial advisor can also help you monitor your financial health while offering sound advice on your next big purchase. In short, hiring a financial adviser takes away much of the research and guesswork that would take you a long time to study by yourself.
10. Plan a Next Big Purchase
Much like when you were planning out of debt, setting your next big purchase can motivate you to do better with your finances. You can plan on moving from renting an apartment to moving to your big house or perhaps travel the world for a couple of months.
Your next big purchase can be your dream sports car or a boat you can take during vacations. Or they are maybe getting that dream wedding with your fiancee that you put on hold during your financial struggles.
Whatever you dream of purchasing next should fuel you to make better financial decisions and make sacrifices when necessary. Getting out of debt presents many opportunities to better yourself in life, and you should take advantage of it to dream bigger for yourself and your family.
Still in Bad Debt? We Can Help
Getting out of debt is one of the goals that many of us, especially young workers, aspire for in our future. However, some may find themselves in a tough spot in life at the moment. If you ever need a loan, Magical Credit is here to assist you.
Magical Credit is one of the most well-known and respected credit providers in Canada. Our company is willing to take risks on bad personal loans for the right customer at the opposite end of the spectrum from payday loan companies and financial institutions.
With simple payment terms and quick approval, you can borrow up to $20,000 at competitive interest rates. These short-term loans have an average interest of 3.9% per month, which you can pay off anytime with no penalty.
Here at Magical Credit, We Lend Responsibly.