Dating on a Budget Volume II: Making a Commitment
by Magical Credit
Our previous foray into the world of romance was a mere toe in the kiddy pool of love on a budget.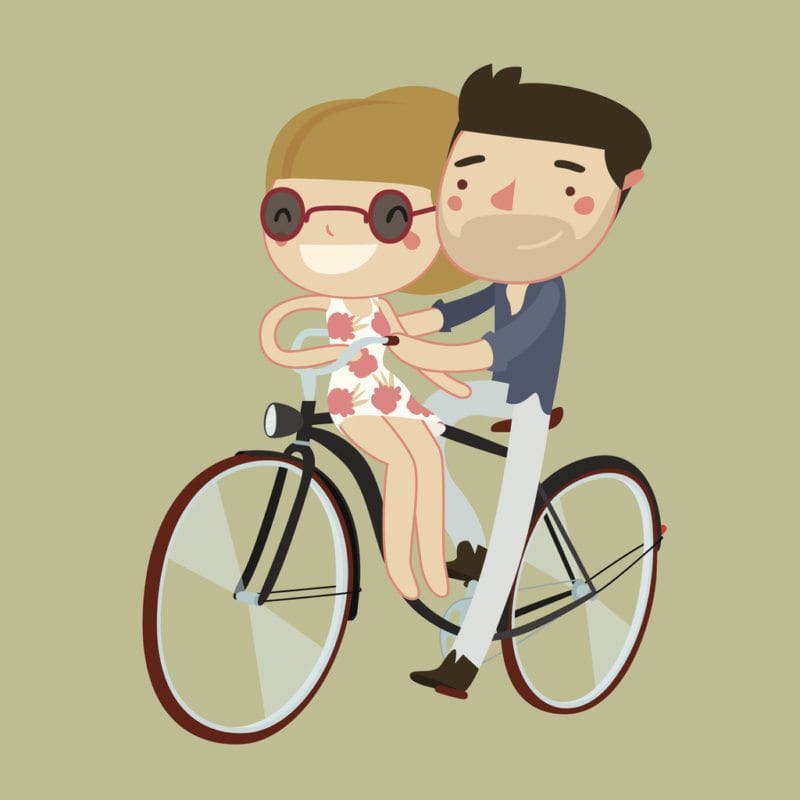 If you've put our expert advice to use, you've inevitably reached the next level of your relationship - in which case, you'll require further budgetary guidance. There's only so long you can survive on grilled cheese, cheap wine, and sultry games of Scrabble. Your significant other will eventually want more!
Whisk Them Away at Discount Prices
If it were up to you, every date would be watching Netflix and drinking home-made Margaritas. Sadly, this won't fly forever.
It'll start with casual suggestions of "I'd sure like to go somewhere nice", quickly escalating to, "take me somewhere nice, or I'm leaving you!". Suddenly, you're fiscally handcuffed to a getaway, which could end up being your one-way ticket to overdraft!
What we suggest: Try to pick vacation spots that are in their off-seasons. Destinations like New York, Chicago, and Boston are filled with world-class cuisine, shopping, and culture. You'll be paying significantly less when visiting these powerhouse cities during the winter months.
What it would cost: Plane tickets will vary, but a night in Times Square during the off-season can cost as little as $85 a night. That's less than the cost of a full tank of gas in Ontario!
Come for a Memorable Night Out, Stay for the Budgeting Skills
In this scenario, the love of your life understands your fiscal limitations, and won't hold you romantically hostage with vacation-centric demands. They never complain about nights spent at home gnashing on chicken fingers, enjoying fancy bottles of grape soda.
Such an understanding partner deserves an exciting night on the town. Of course, that doesn't mean you should spend with the same levels of excitement!
What we suggest: A trip to a comedy show will be a welcome change from nights spent eating store-bought chicken fingers and watching re-runs of the Trailer Park Boys.
What it would cost: Amateur night at Yuk Yuks comedy club costs $4. If you don't have the funds readily available, ask your six-year-old brother if you can borrow from his piggy bank.
The Romantic Gift of Savings
You need to redeem yourself after the romantic blunder that was the "cheese of the month" subscription you bought for an anniversary gift. While everyone enjoys a strong Havarti and a sharp Gouda, a more intimate gift might be a more successful endeavour.
What we suggest: An introductory couples' salsa dance class will ignite your romantic spark. It may not be the forbidden dance, but salsa is pretty darned spicy!
What it would cost: Groupon.com is offering seven weeks of dance classes for only $35! Hold back on your Snickers addiction for a few weeks to make room in your budget.
They'll Say Yes to the Ring, You'll Say Yes to the Price
You'll eventually need to take the terrifying plunge into (un)holy matrimony. Three-month's salary is a lot to spend on a piece of jewelry smaller than a peanut, but you can't be proposing with your prized collection of Star Trek DVDs.
What we suggest: Bargain hunt online for engagement rings. It's really that simple. You're going to have to spend, but you don't need to spend an arm, a leg, and your future child's college fund. After all, it's that morbid sentiment of "'til death do us part" that counts, not going into debt over a ring.
What it costs: If you're smart, anywhere between $500-$600. If they don't like the ring, you're better off without them!
---
If your bank account is too baron to raise your relationship to the next level, Magical Credit offers bad credit personal loans, to low-income applicants.