Debt Horror Stories to Scare You Straight
by Magical Credit
Think you have debt horror stories?
Let us tell you, friends, you haven't even begun to experience the fear and existential angst caused by mounting debts your income can't even make a dent in. If you really want to feel the cold grip of terror crawling up your spine this Halloween, skip the haunted house and check out these debt horror stories.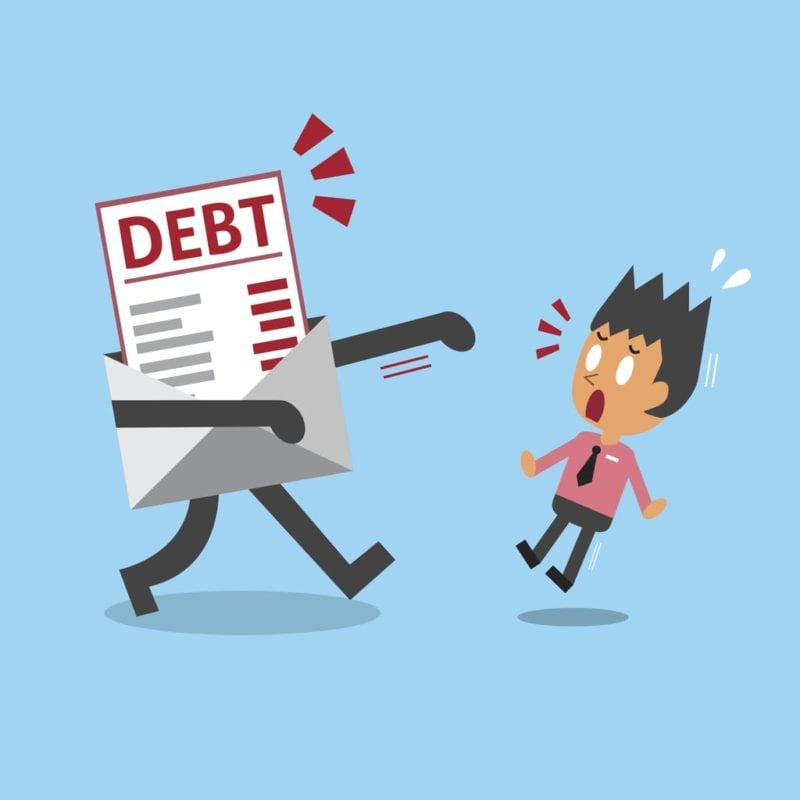 Now that's scarier than some goofball in a rubber mask popping out of some cheap Halloween decorations, right?
Student Loan Horror Stories
Student loans are responsible for more traumatized millennials than The Ring, and that's saying something. I mean, just think about it, what's worse? Dying in seven days at the hands of a Japanese ghost or slowly having your soul eaten away by the knowledge that you owe tens of thousands of dollars that you're expected to pay back on an intern's salary, or lack thereof?
Just take the story of Steve MacIntyre, profiled here. A gentlemen who tried to use his unemployed time to improve his skills and enter his dream industry by taking a graphic design course…one that ultimately put him $100,000 in debt for what he calls subpar instruction.
"I actually had to sign up for other courses outside the school in order to successfully complete assignments!" he wrote. "Courses that offered REAL *VIDEO* Instruction at a fraction of the cost ($35 dollars per month as opposed to $2000+ dollars!) and by a company that trains people in the industry. It's now 8 months since loans have run out and I couldn't complete my degree and I'm still looking for work."
If you aren't already quivering in your boots or googling "bankruptcy protection," check out more first-hand student loan horror stories here. At least, if you never want to sleep again.
MC Hammer's Poor, Poor Credit Score
It took several years of lavish spending, but '90s rap icon MC Hammer eventually discovered that yes, they could touch this. "They" in this case being the United States Internal Revenue Service Service and several creditors to whom he owed over $13 million in debt, resulting in him declaring Chapter 11 Bankruptcy protection in 1996.
While many celebrities have made and blown fortunes, few rose as far as MC, or fell as low. For context, Hammer was making more than $33 million a year following the smash-hit success of '91's delightfully named album Please Hammer, Don't Hurt 'Em to being millions of dollars in debt half a year later.
RELATED: Celebrities Who Live Large While Spending Little
Not only did he turn his $30 million mansion into a modern Versailles complete with a recording studio, golden gates, tennis courts and swimming pools, but he was personally paying to support dozens of hangers-on and coattail riders, and started collecting race horses.
But hey, at least he was able to fall back on his Christian hip hop roots and start a TV ministry show called "MC Hammer and Friends." Though, it's unclear if he prayed for easy approval bad credit personal loans to get it started.
Nicolas Cage's Addiction to Buying Castles
Believe it or not, back in the '90s, Nicolas "Not the Bees!" Cage was a legitimate movie star. He won the 1996 Academy Award for Best Actor for his heart-breaking portrayal of a down-and-out drunk in Leaving Las Vegas and became a bonafide megastar with goofy action movies like Con Air and Face/Off.
However, his reputation began to change with a string of stinkers in the late 2000s that ranged from off-putting to…well, just plain awful. A lot of people like to just blame it on Cage's weird, experimental tastes, but the truth is far more prosaic.
Despite at one point being worth $150 million, Cage began to run into money troubles due to making some unwise purchases, not the least of which were two European casts: the Bavarian fortress of Schloss Neidstein as well as Midford Castle in England, both of which bought in a two-year span.
For a full list of weird stuff Nic Cage bought, check out this article, but we maintain that the real debt horror story here is the thought of having to star in the weird Evangelical Rapture movie, Left Behind. Shudder.
---
Don't want to star in your own debt horror story? You can consolidate your debts under Magical Credit's bad credit personal loans. We specialize in working with borrowers with poor credit, and offer clear repayment terms with our short-term loan calculator. Apply for a loan online in just 5 minutes!