Eating Out on a Budget
by Magical Credit
It makes no real fiscal sense to do so, but people love to eat out.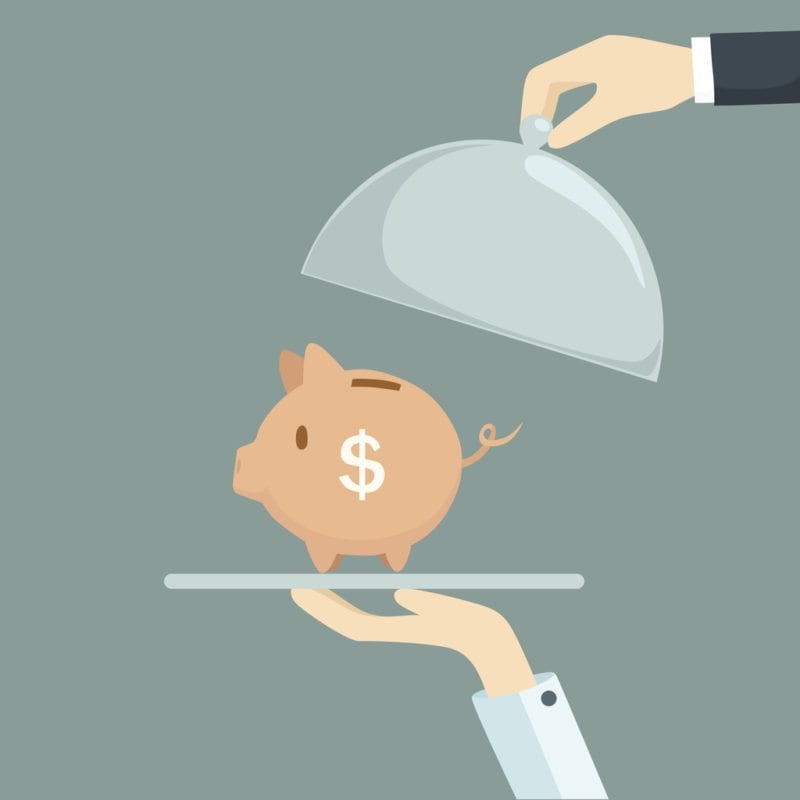 Instead of frugally planning and prepping meals on a sensible budget, they want to be waited on, pampered, and cooked for like medieval royalty.
We get it – people will always succumb to the finer things in life (re: chicken fingers). The best we can do is prevent our bank accounts from getting diced and filleted.
Water Will Keep Your Bank Account Hydrated
Alcohol is exponentially marked up at restaurants, so bring your own bottle of wine. It doesn't sound legal, but it's been approved in Ontario since 2005. One measly glass of house wine will cost nearly as much as your entire outside bottle. Even the snootiest of wine connoisseurs know that's a rip-off!
If you aren't into fermented drinks, we suggest sticking to tap or fountain water, since both are free. What's wrong with a diet coke (other than the copious amounts of aspartame)?
A can that's 20 cents at home costs $2.00 at a restaurant—a staggering 1000% markup!
If you're on a budget, the financial value of restaurant soda is as hollow as the drink's nutritional value.
Breakfast is the Most Important (And Cheapest) Meal of the Day
Breakfast is always cheap, and you can get your bacon, eggs, coffee, and all the fixings for under $10.00.
Lunch dishes are also cheaper than dinner because of the smaller portion size, and lunch dishes are regularly on special. We suggest ordering from the lunch menu during dinners. It's not always allowed, but it's always worth a shot. The difference in portion size between lunch and dinner isn't hard to stomach when comparing the differences in price.
Sharing is Caring (For Your Budget)
Many Indian and Chinese restaurants encourage group food-sharing. By splitting the cost of a few larger plates between 5-6 people, you'll pay $7.00-$8.00 on a portion that would usually cost at least double the amount. Trust us, you won't go hungry!
At a sports bar, you'll slice your bill in half when splitting an appetizer and an entrée, as opposed to two individual entrées— and you'll still have enough food for leftovers!
Get the Inside Scoop (Or Slice, or Dollop)
Your waiter isn't just a pen, a notepad, or a passive-aggressive jerk who rolls their eyes when you change your order. They're your inside source to the kitchen.
Use your charm to curry their favour, then ask where the best bang for your entrée buck lies on the menu. They'll help you successfully hack the menu because they know what's affordable and they know what's good.
---
You could use all the frugal spending tips in the world when you're eating out. Or, you could never eat out and be a grocery budgeting guru! But the fact remains, an unforeseen expense can completely cook anyone's finances.
That's why Magical Credit offers short-term loans to bad credit applicants with proven debt repayment history.