Rip-Offs and Scams to Look Out for This Holiday
by Magical Credit
It's the season of giving. Sadly, this means it's also the season of taking away your money.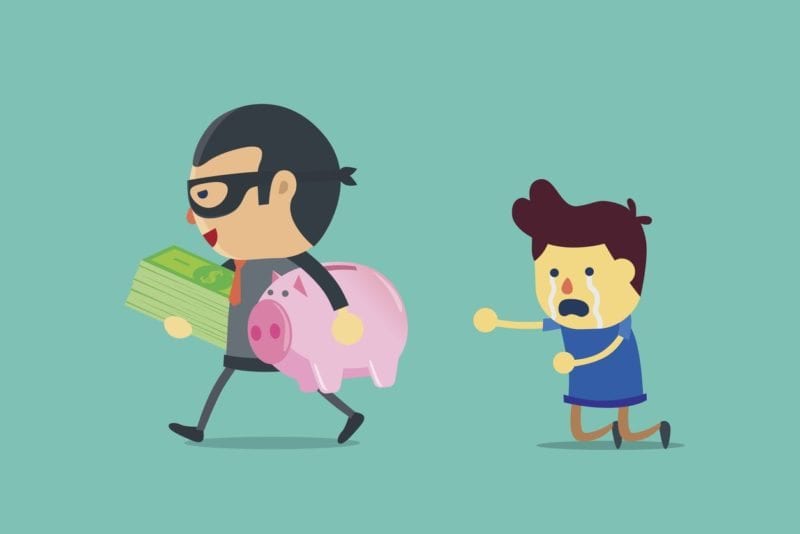 In some instances, it's highway robbery, and in others it's, well, just plain robbery.
With an influx of spending before the holidays, there are plenty of sketchy practices abound trying to coerce you out of your hard-earned money.
Phony Bargains
Imagine, in desperate search of a bargain, you see a pair of Timberlands at an unnamed shoe retailer, and it says 30% off, down from $250.
Heck, $75 sounds like a good deal, right? Especially when you're strapped for cash, time, and patience—after all, you need to fulfill your Christmas shopping obligations.
Not so fast.
Many retailers raise the pre-sale price a week or two before their "HOLIDAY BLOWOUT SALE". So, a pair of Timberlands costing $210 in September, is suddenly jacked up to $250 at the beginning of November, before being "marked down" by 30%.
This is an immensely shady practice. Stores will also invent pre-sale prices that never existed. A pair of jeans that's $25 looks more enticing when it says, "Originally $45", even when they were always $25.
This is a psychological tactic employed to con bargain hunters worldwide. In fact, JC Penney, Kohl's, Macy's, and Sears, were all sued over similar practices in recent years.
The Digital Wild West
Completing your holiday shopping at the press of a button is enticing, and the internet is growing increasingly intuitive to consumer habits. So, digital shopping scams are more prevalent than ever during the holidays.
A recent survey by WalletHub shows 41% of Americans prefer gift cards, thus gift card exchanges have emerged online. But many online shoppers purchase gift cards from less than reputable websites whose fine print removes any accountability in the case of customers receiving used cards, or not receiving a card at all.
Thieves have also exploited the e-coupon trend. If you're visiting a site that's sole purpose is to dole out coupons, don't enter your personal information – it may be a phishing scam.
Convenience Costs
Convenience is a heck of a thing to sell, but is it worth it? When it comes to most pre-wrapped holiday gift packages, the answer is typically "no".
Of course, you're consolidating several purchases into one easier purchase, saving you time from having to wrap and locate all of the items.
But the bundled gift sets are usually exponentially more expensive than buying the items individually. And the packaging is bulky, creating the illusion of a robust set of gifts, when in reality it's an excess of air and paper.
The prime offenders are places such as "Bath and Body Works"; it's easy to lump and overcharge for skin care and cosmetic products in neatly presented packaging.
---
The holiday season is hard enough on your bank account without worrying about "reputable" outlets and digital scammers trying to rip you off.
For those whose wallets are filled with lumps of coal, and credit scores are on the 'naughty' list, Magical Credit specializes in easy approval loans for bad credit applicants.
Apply today in as little as 5 minutes!