4 Unorthodox Ways Millennials Can Pay Off Their Student Loans
by Magical Credit
If there's one demographic that could go for a fresh apocalypse, it would undoubtedly be the millennials.
No, it's not some sort of ridiculous slang, nor is it a kind of figurative expression. We're talking about the apocalypse. As in the complete and final destruction of the world - the kind that ends all life on Earth as we know it.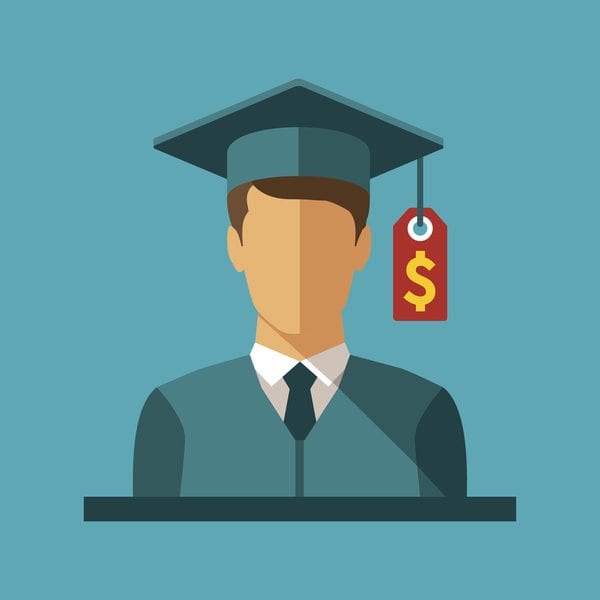 The advent of an apocalypse would be the only situation in which millennials wouldn't have to worry about paying back their student loans, after all. Probably.
What's The Deal With Student Debt?
Let's not mince words: millennials are drowning in student debt. As of 2016, Americans owed over $1.3 TRILLION of student debt, at an average of $30,000 per student. And unfortunately, Canadians aren't much better off; they owed $15 BILLION, or an average of $28,000 per student.
And unfortunately, not only is student debt one of the most common types of debts there is, it's also remarkably nasty:
Student debt is disgustingly difficult to get rid of. With consumer debt, you can declare bankruptcy and have your debts discharged. Unfortunately, there are no such do-overs with student debt.
Student loans don't guarantee you anything. And by anything, we mean a good job. Or any job, for that matter. If you opted to go for a humanities degree and racked up some massive numbers, things are probably not looking too good for you.
But fear not - there are a multitude of ways debts can be repaid. Check out these very unique and unorthodox methods that could help you repay your student loans in ways you couldn't imagine!
1. Take Advantage of the Repayment Assistance Plan (RAP)
Fortunately, government-run student loan programs generally provide some kind of provision for its students in massive debt with no realistic ways to pay it back.
In Canada, student loans are generally arranged through the provincial government. Each province has their own programs to help people repay their excessive student debts, which can lead to revised payments and years of interest relief, based on gross family income.
However, the Repayment Assistance Plan (RAP) is available to ALL Canadians with student debt!
To be specific, here's how the RAP works. There are two phases to this program:
Phase 1
Phase 1 of the RAP covers the first five years after your graduation. You'll have your monthly payments either reduced or eliminated, while the government covers for your interest. Your loan might not be getting paid off or anything, but hey! At the very least, it won't be accumulating for awhile.
Phase 2
Phase 2 follows the five years after the RAP is up. The government essentially covers any loan principal and the interest portions of the payment that you can't pay. What this means is that the government will be paying off your student loans in your stead!
But remember: this is only if your income never rises enough so that you can affordably pay off your loan on your own.
2. Look into Loan Forgiveness Programs
Believe it or not, there are Loan Forgiveness Programs available for your Canada student loans. But don't get too click-happy just yet; they're very situational and come with several conditions.
Nova Scotia Student Loan Forgiveness Program
Many of the Loan Forgiveness Programs are provincial, and the Nova Scotia Student Loan Forgiveness Program is one example.
If you're a Nova Scotia resident pursuing a four-year degree at a Nova Scotia university, you may automatically qualify for the program. It can reprimand up to 100% of your Nova Scotia student loan!
Keep in mind other provinces also offer similar loan forgiveness programs exclusive to their student residents. Here's a directory of all provincial government student loan offices for you to get started!
3. Volunteer and Pay Off Student Loans
Volunteering may be the last thing on your mind when you're in over your head in debt. But believe it or not, volunteering can actually contribute toward your student loan repayment!
For instance, the 2015 Pan-Am games offered their volunteers a 12-month reprieve in interest and repayments on their OSAP loan — double the usual amount of six months, which amounted to an average savings of $1,400 per student!
Although the Pan-Am games have come and gone, there are still organizations out there that offer student loan benefits for their volunteers. SponsorChange gives you the opportunity to volunteer for activities you enjoy or support causes you believe in - all while earning money that will go directly toward your student loans! The concept is fairly simple: organizations list projects on the SponsorChange website, which you can apply to based on your talents and preferences.
Relevant experience, warm and fuzzy feelings for doing social good, and repaying your student loans - all at the same time! Who would've thought?
4. Refinance your Student Debt
And of course, let's not forget the more traditional methods out there. Refinancing your loan, for one, could certainly help lower your payments, providing flexibility & time to accrue the appropriate funds.
But be wary if you're considering this route. If a federal loan is refinanced as a private loan, you'll lose access to many other options that could potentially help you deal with your student debt. Repayment Assistance Plans and Loan Forgiveness Programs? You better kiss those goodbye.
---
If you find that your student debt is becoming unmanageable and you've done all you can to stay afloat, Magical Credit offers a variety of short term loan options to anyone with a reliable source of income; you can receive a loan anywhere from $2,000 to $10,000!
Fill out an application to get started, or call us at 1-877-213-2088.