Need a Quick Car Repair Loan?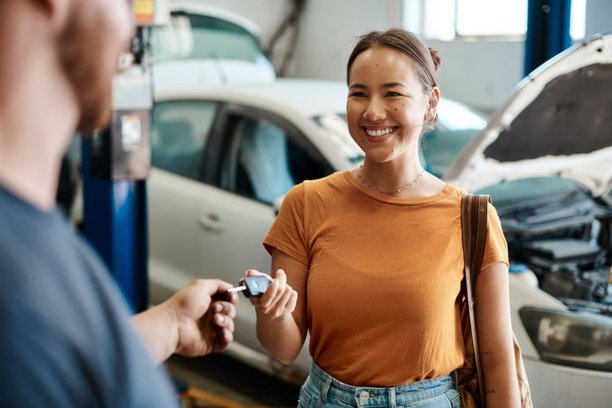 Car Repair Loans: The Basics
The need for car repairs tends to come when you least expect it. More importantly, it can also come at a time when you are juggling other important financial obligations. If this sounds like your current scenario, you are not alone.
Car repair loans are designed for people who are facing a large emergency car repair expense to get their vehicle back in driving condition, but may not be able to shell out hundreds (or thousands) of dollars all at once. If you are someone who relies greatly on the use of a car to get you from Point A to Point B, then any repair that puts your car out of commission for an extended period is an inconvenience. For such situations or even less extreme ones, quick car repair loans can be a useful tool for regaining the use of your vehicle.
The premise of a car loan is simple:
The borrower receives an upfront sum of cash from a lender that they use to pay for the repairs required on the car.

Once the payment is made to their repair service provider, the required fixes or maintenance services are completed, and the car is returned in usable condition to the borrower.

The borrower then pays back the principal and interest on the car repair loan for the fixed term that the loan was extended for.
There is a wide scope of expenses that these loans provide coverage for. These include repairs from damage or accidents, spare parts purchases, and general cosmetic or safety improvements made to the car.
Types of Car Repair Loans
When shopping for a car repair loan in Ontario, there are several options that you can consider as a borrower depending on the size of the loan, your credit history, and how fast you need the loan.
Personal Loan from Online Lenders
A personal loan provided by an online lender is one of the most flexible types of car repair loans as these lenders offer a variety of loan terms, payment options, and pricing. Once the borrower agrees to the terms of the loan set by the lender, funds can be deposited in 24 hours or even less into the borrower's bank account. Borrowers may also be able to bypass upfront fees and other administrative charges levied by banks or other traditional lenders.
Another advantage that online lenders can deliver is the fact that they are more likely to approve car repair loans for borrowers with less-than-optimal credit or even with no credit checks in certain instances. If you are on the hunt for a cost-effective car repair loan, our team at Magical Credit would be pleased to help you evaluate your options and get you back on the road as soon as possible.


Personal Loan from Banks
A personal loan provided by a bank can be provided either as a lump sum payment or as a line of credit. Not all banks have special loans specifically targeted towards car repairs. However, if you are a borrower with reasonable credit history, you can obtain a personal loan that can be used for discretionary expenditures such as car repairs.
The main benefit of a personal loan from a bank is the competitive rate that you can get as compared to other lenders. However, an important consideration that has to be made is that a bank typically has structured approval processes. That can increase the length of time for a loan to be approved and funds to be deposited in your account as a borrower. If you require funds immediately, a bank loan might not be the best option.


Auto title loans
Borrowers with sub-optimal credit scores can also use auto title loans to finance emergency car repairs. While these offer speed and convenience comparable to an online lender, certain risks have to be kept in mind. The primary one relates to the fact that auto title loans use the car as collateral. As such, if you are not able to make your repayments on time, the lender could end up seizing your car and selling it to recoup their money. Auto title loans can also charge high fees on the loan which can add up to a substantial sum over the life of the loan.
Final Thoughts
While emergency car repairs can often come as a shock to the system, there are several alternatives available to people who need to complete these repairs on their vehicle.
If you have any questions about what type of loan terms you can expect to receive for your own car repair needs, feel free to contact bad credit loans provider today for the support you need.