Personal Loan vs. Personal Line of Credit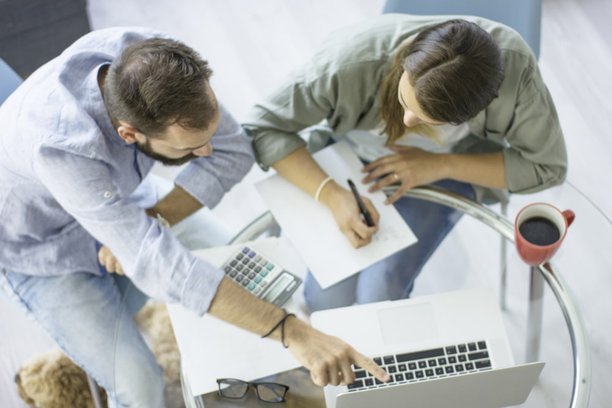 Having a failsafe that you can rely on in your time of need is now more important than ever. Whether your pay has been cut by your employer because of the fallout from COVID-19, your hours reduced or even eliminated or perhaps some emergency has taken place in which you need the extra cash. If, for instance, one of your family members was in need of a medical service or operation that is not covered by OHIP or for any other reason, there needs to be something you can turn to.
The Many Facets of Credit
Both personal loans and personal lines of credit are both ways in which you borrow money from lenders/creditors. This applies both to individuals and to businesses although they are generally taken out for individual use.
Say you want to renovate your living room or want to have some home improvement done on your front yard and backyard through interlocking. Maybe you're fed up with work, COVID and everything else the world seems to be throwing at you. An easy option here would be taking out a personal loan to improve your home.
On the other hand, let's suppose that you or your child is heading off to post-secondary education but you currently lack the funds to finance it yourself. You may also currently be struggling at paying your rent or mortgage and sometimes need assistance to keep the banks at bay during tough months. An easy option for any of these would be opening up a personal line of credit.
Have I confused you yet? Don't worry, we're here to explain. It may look like both personal lines of credit and personal loans are used to finance the same things and indeed, they can be. The differences between them lie in the terms and conditions you agreed on upon signing up which influence how you pay, the amount you pay and what you stand to lose.
Personal Loans
Imagine a personal loan as investing all of your money into a few stocks. Risky, right? It is, but don't forget that you also have far more to gain by going big. In a personal loan, you receive a lump sum of money for which you applied for, typically anywhere from as little as $500 to $50,000. This lump sum which is received in full is paid back over a fixed interval throughout the entire duration of the term.
Effective and Versatile: Similarly, personal loans are a quick, easy way to get large amounts of money directly into your pocket. Personal loans don't generally require you to state what you plan to use the funds for, you are the boss. Personal loans also don't have as strict requirements as other lending avenues which make it easier for individuals with poorer credit to get a second chance with "bad credit loans". Paying in bi-weekly, semi-monthly or monthly installments doesn't change the fact that whether you're flying to Cuba, buying a car or home improvement, your lending institution doesn't care as long as the money is paid back in time.

Reliability/Stability: Since personal loans feature a reliable system that you can plan in advance knowing the monthly payments you are going to make; they are often used to consolidate other debt. Personal loans generally have a relatively high-interest rate since they tend to involve a much shorter time span (6 to 60 months). However, if you are racking up a large amount of interest on old debt that is continuously accruing, paying it all off with one fell swoop saves you a lot of time and money. In fact, an April 2020 study by Bankrate found that 38% of personal loan applicants were doing so for debt consolidation purposes.

High Fees and Penalties: Personal loans also carry with them major financial repercussions if you are unable to pay back the allotted sum. Typically, lenders are warier of giving out personal loans and thus charge higher interest rates. This is because personal loans typically are unsecured. This means that if you are unable to pay back the loan, there is nothing you are entitled to give as reimbursement. This is called collateral.
This issue can be solved by applying for a secured personal loan. These involve you putting up something you own such as your home or vehicle as collateral in case you are unable to pay back your lump sum. What this does is make lenders far more willing to finance you and offer lower interest rates and lesser penalties on your credit score since they know they have your backing if you are unsuccessful with paying back the loan.
Personal Lines of Credit
Now imagine an individual spreading out their savings into a vast portfolio. They put some of their money in small amounts into various stocks, some into mutual trust funds and yet more into ETFs. This individual has less to gain but also less to lose. In a personal line of credit, a financial institution allows an individual access to a predetermined sum of money. However, you are not required to borrow that sum, instead, you are allowed access to borrow up to that limit at your disclosure.
Freedom to Choose: The beauty in personal lines of credit lies in you being able to access the funds at your pleasure. Perhaps you don't need any money for one month, and the month after that you need $8000. There's no problem. You only need to pay on the money you take out and the times you don't take anything out, you don't have to pay!

Affordable and Reliable: Lines of credit tend to be a far more forgiving option when it comes to money lending in comparison to personal loans. Personal lines of credit tend to always be secured through an asset (i.e. home or automobile). This makes lenders more willing to open their pockets to you. The limit for lines of credit is far more than that of personal loans. Lines of credit also don't have a fixed interval as they will always be available to you whenever you call to open them if you choose to open one.

A High Bar to Reach: The downside facing personal lines of credit is the high credit score an individual needs to be accepted for one. Bad credit loans are a no-go when it comes to personal lines of credit where the challenge lies in getting accepted to open an account in the first place. It's all a matter of your score, if it's good, your coffers are endless but if it's not, the lenders won't budge.
Conclusion
Finding the right financing option for you should be your primary concern. If you are in need of a failsafe urgently, many big banks might take one look at your application and put a red stamp. For those that might have made a mistake in the past and taken on more than they could chew, MagicalCredit understands your situation. For bad credit loans ranging from interest rates as low as 3.5%, simply fill out a 5-minute online application at https://www.magicalcredit.ca/ today to get up to $20,000 over the course of a day!