Scary Smart Money Lessons for Kids
by Kristen Smalley
Usually, Halloween teaches kids the worst financial lesson possible: that you can get something for nothing. Instead, teaching kids about money on Halloween should be accomplished with real money lessons.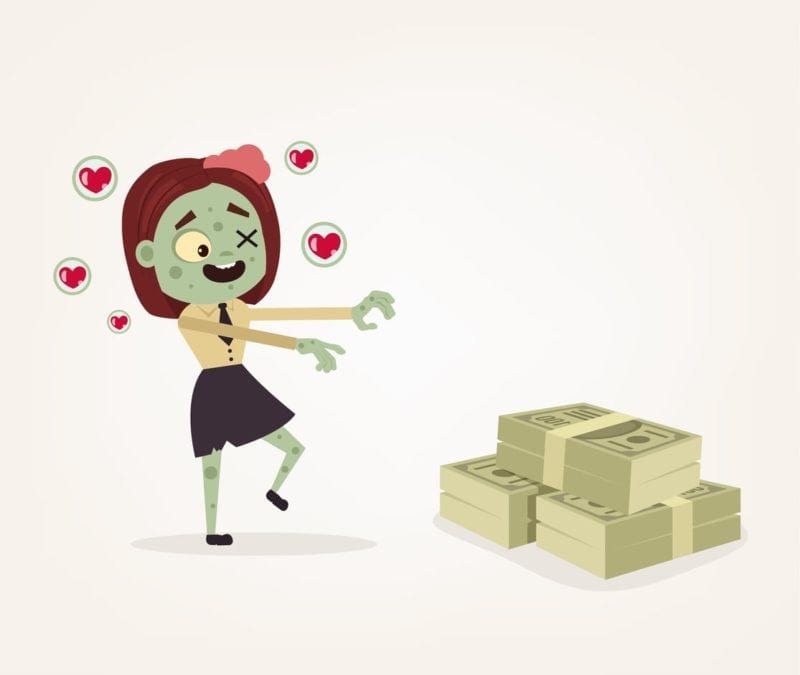 And like all the best learning opportunities, you can hide the fact that you're teaching financial literacy to youth under the guise of Halloween games or activities for kids. After all, the saying is trick OR treat, right?
Here are some examples of Halloween games that can teach kids about money.
Money Lesson for Kids #1: Keep Track of How Much Their Halloween Candy Costs
Trick or treating is an exercise in pure, no-holds barred consumption. However, you can turn this candy-a-thon into a way to teach financial literacy to youth by making a Halloween game for your kids out of tallying up the cost of candy.
This doesn't have to be a comprehensive spreadsheet and you don't have to use actual prices, but if you ask your kids how much the candy they just received costs (after reminding them to say "thank you") you can reinforce the fact that everything has a monetary value without distracting them from the fun they're having.
RELATED: Personal Finance Skills to Teach Your Kids
And then, at the end of the night, you can shock them by revealing the total cost of their whole Halloween haul. This way, you teach the kids about money without putting any added pressure on them. It's just another fun Halloween game!
Money Lesson for Kids #2: Ask Them to Choose their Own Halloween Costume on a Budget
As parents, you want to give your kids everything under the sun, and it breaks your heart a little not to give them what they want. However, giving them a budget to work with while buying a Halloween costume is a good activity for teaching kids about money because it shows them how to balance their wants against their means.
This budget doesn't have to be set in stone. If they pick out an Elsa costume that's just a little out of their arbitrary price range, that doesn't mean you have to force them to go as Olaf instead! Keep it fun and treat it like another Halloween game for kids.
Money Lesson for Kids #3: Have them Budget Their Candy
While we all have fond memories of gorging on Halloween candy after a hard day's night, a good way to teach kids the most important money lesson of them all – budgeting effectively – is to have them budget out their remaining candy.
Try not to put too many restrictions on them (aside from not letting them eat the rest of it the next night) but explain that if they eat less candy over the next few days, they'll be able to enjoy the chocolatey goodness for a longer period of time overall.
This teaches them the important financial literacy principle of delayed gratification while remaining a Halloween activity for kids.
---
Want to thrill your kid with Halloween games and activities that are actually fun? Take out an online loan from Magical Credit for fast cash that won't come back to haunt you. Apply online in as little as five minutes!