The Best Holiday Deals this Month (including Magical Credit's Own Giveaway)
by Magical Credit
If you didn't get in on the annual Black Friday gongshow this November, you're probably free of the bumps and bruises that comes with combatting other mall jockeys.
But you also missed the last chance at relatively good shopping deals, as stores are shifting focus to coercing you out of your Christmas bonus.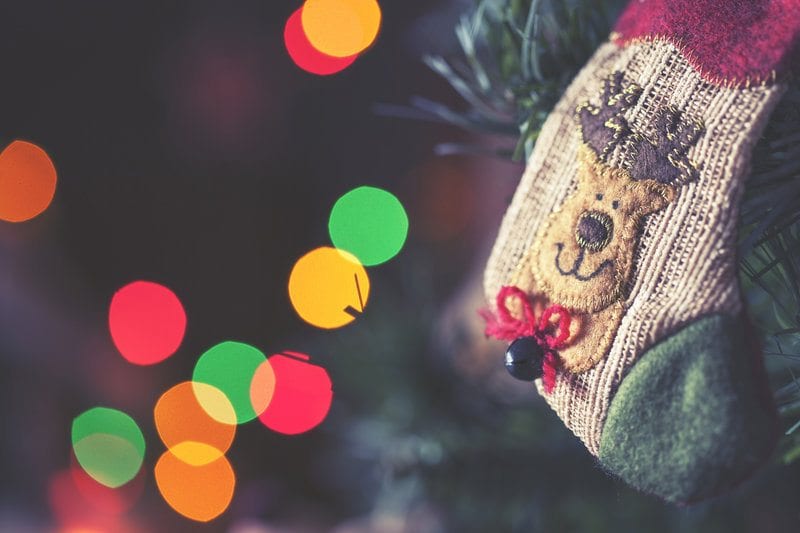 There are still some sweet deals to be had, however – if you know where to look. From clothing to gag gifts, these holiday specials will give you the best bang for your buck…which may or may not include an awesome promotion from a certain Canadian, short-term loan company (no bias here, we promise).
6. Festive/Fuzzy/Fun Socks.
Fuzzy, fun, Christmas-themed socks should've graced the shelves of your local Walmart as early as October. The versatile foot warmers are great gifts for men or women, come in a variety of wacky styles, and everyone could always use an extra pair of socks.
Why we like it: Not only can you pick socks based on the receiver's personality – more colour, more fuzz, etc. – you can get really personal by adding a note that says, 'For your mistletoes'.
Price: Under $10.
5. The 'Confidence Booster'.
Not only is this a frugal gift, it's easy to assemble. All you'll need is a lip balm of some sort, candy of your choice, a ribbon, tag, and a small gift bag.
Fill the bag with candy, and put the lip balm on top. Wrap it up with the ribbon, and simply write 'You're the balm' on the gift tag. Secret Santa gift status: complete.
Why we like it: It's personal, cheap, and shows some thought (and a sense of humour). Plus, it's pretty unlikely they'll receive a similar gift from someone else.
Price: Under $10 (unless you spring for the good lip balm).
4. Amazon Fire Tablet.
This holiday idea isn't as serious as fuzzy socks or lip balm puns, but the Amazon Fire Tablet has tremendous value for young kids and old users alike.
While it's nowhere near as powerful as more expensive tablets, the Fire does a fine job for young kids who want to play games, or their grandparents who want to check emails or surf the web.
Why we like it: It's much more affordable than competing tablets, and a lot more durable, giving it that extra longevity – meaning good value for your money.
Price: $49.99.
3. Electric Bug-aloo (Electric bug vacuum).
Have a friend that hates bugs? The electric bug-aloo solves any pest problem in their home; the bug is trapped at one end of tube, and is sucked into a holder that houses other dead bugs. Festive!
Why we like it: We hate bugs.
Price: $85.00.
2. A Trout Tie.
It's exactly what it sounds like: a tie that makes it look like you're wearing a fish around your neck.
Why we like it: It's exactly what it sounds like.
Price: Priceless.
1. Magical Credit's Holiday Cash Giveaway
See, we told you there's no bias here.
Our Holiday Cash promotion is a pretty sweet deal though – borrowing $5000 from us gives you $500 cash back! That's more than enough to buy all the bug vacuums, fish-themed clothing, and fuzzy footwear you'll need for the holidays.
Terms and conditions apply, which you can read in detail here.
Offer expires December 31, 2016 – so get your free cash now!
---
Magical Credit provides bad credit loans in Canada, where banks and payday loan companies may be stingier. As long as you have a source of income – traditional or non-traditional – and a proven debt repayment history, you may qualify for our advance loans.