Top Money-Saving Tips for Single Parents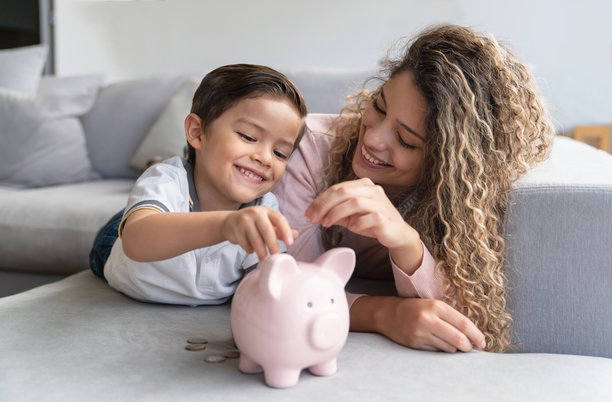 The life of a single parent isn't always easy. It's basically like taking on the job of two people, all by yourself, dealing with all that responsibility and all of those different roles without any assistance from a partner. This doesn't mean that single parents can't be successful, and many single moms and dads do incredible jobs of raising their kids right and meeting their needs, but one area in which they often find themselves losing a little control is in their finances.
Keeping track of your cash while covering all of the expenses associated with your child can be a huge challenge. With only one income, even with social benefits or government aids, paying for school supplies, kids' clothes, Christmas gifts, vacations, and more, along with all of your regular household bills and expenses, can seem almost impossible at times, but there are plenty of great ways for single parents to save money. Read on to find out how.
Pay Off Your Debt
One of the first and most important ways you can start saving money as a single parent is to get your debts under control. Start with the high-interest debts, such as personal loans or credit card debts with high-interest rates. Even if you just manage to pay them a few months earlier than expected, that's already a big saving and one less thing for you to worry about. Even though debt can seem impossible to overcome at times, it is possible to pay it off, and you can always consider options like refinancing to lower your rates too.
Make A Monthly Budget
Another terrific way to start saving more money often is to set yourself a monthly budget. Take a look at what you spend on average each month and what you need to buy, and try to draw up a budget accordingly, ideally setting aside some money that can be saved each month or used to pay off any existing debts. Having a budget and sticking to it is absolutely key for getting your finances under control and can make a massive difference to the lives of single parents.
Set Yourself Targets
It's a lot easier to save if you know what you're saving for. Many people work better when they have an end goal or target to achieve, so start yourself some of those goals. Maybe it's something relatively simple, like wanting to take your kids on vacation, or perhaps you're working towards owning your own home. Either way, having a goal in mind and pursuing that goal each and every week can serve as a really effective form of motivation.
Compare Prices
Need to buy a new appliance? Looking for some supplies for your little ones ahead of the new school year? Getting ready to go Christmas gift shopping? In any of these situations and so many more, it pays to compare. Too many people, single parents included, rush into their purchases, simply heading to their local stores or favourite websites and buying the first thing they find, without taking the time to shop around. The internet makes it so easy to compare prices, find special offers, and save huge amounts on items of all shapes and sizes. No matter what you're buying, you can almost always find it cheaper somewhere else.
Make The Most Of Sales
Leading on from the last point, you should always try to make the most of sales, promos, and special offers whenever you can. These days, there are so many stores out there, all in competition with one another and all eager to catch your attention, so the chance of finding amazing discounts and great deals is higher than ever, especially during key moments of the year like Black Friday and New Year. If you're planning to buy some clothes or a new device, try to hold off until a sale is running and make the most of the lower prices.
Monitor Your Finances More Regularly
A big part of improving your financial health and getting your money in order is simply checking on your finances more often. Make it a habit to log into your bank account and see your incomings and outgoings. Keep an eye on how much you're spending each week, track how much money is being lost due to debts and bills. By looking at your finances more regularly, you'll get a much better idea of how and where you can start cutting costs and making savings, and you should also find yourself much more motivated to save as well.
Start Shopping Online
The internet is an amazing tool with so many uses, and it's such a great option for shopping. You can buy pretty much anything online, from clothes to phones to food and more, and the best part is that you can do it all from the comfort of your own home, free to browse sites, compare prices, and find the right products in an instant. It's so much easier than going to the mall and it's way cheaper too, as you're much less likely to be distracted by other stores or pay over the odds for products that could be found cheaper elsewhere.
Cut Out Unnecessary Spending
This one should be obvious, but it's amazing how many people are spending crazy amounts of cash on things they don't even need or use. It could be all kinds of things. Maybe you're in the habit of buying too many decorations and home furnishings that end up gathering dust-up in the attic. Perhaps you have too many streaming subscriptions and only really need one or two. Perhaps you've got an old gym membership taking money from your bank balance each month for no reason at all, or maybe you're in the habit of buying too many cups of coffee from cafes instead of just making your own. Look at your accounts, track your expenses, and find the ways where you can start to save. Even just a few dollars a day can make a huge difference.
Take Your Single Parent Lifestyle To The Next Level
This is just a small sampling of ways in which you can start saving more money as a single parent and enjoy a greater level of control over your finances. With a little more money saved, you'll find it much easier to cover the costs of childcare, and even have some cash left over to have fun with your kids as well. Check out the Magical Credit blog to learn more top tips for financial organization, and give us a call on 1-877-213-2088 if you find yourself in need of more financial assistance.