Touchdown, Bank Account: How Professional Football is a lot like Personal Finance
by magicalcredit
January doesn't just mark the beginning of the new year, but the beginning of the NFL playoffs. Wild Card weekend has already come and gone, with Divisional Playoff series set for the middle of the month.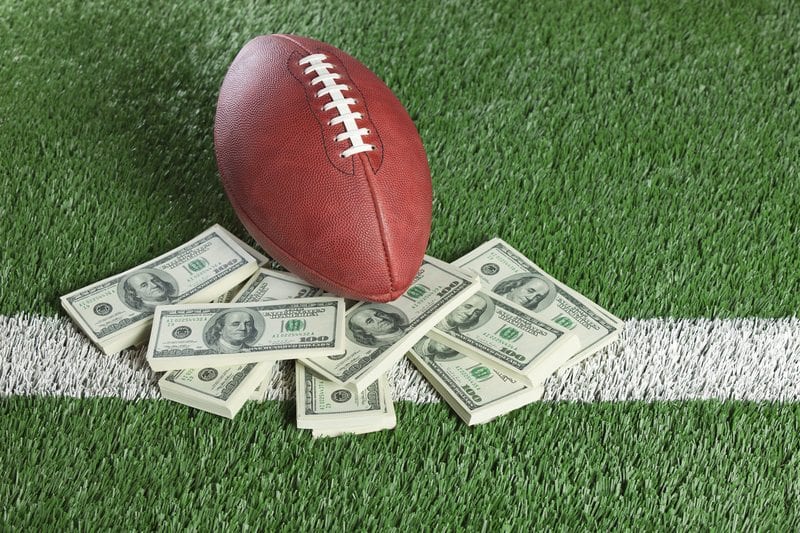 And there was a lot to take away from that weekend. We learned that the Seahawks' swarming defense is as punishing as ever, that 'Big Ben' Roethlisberger still lives up to his name, and – with all due respect to Matt Ryan – that Aaron Rodgers is the real MVP.
But we can learn far more important lessons from watching football than who the best players are, and why the Houston Texans still can't get it done in the postseason. Namely, lessons in personal finance.
That's right – finance isn't so different from America's pastime. So if you're a football fan, you have no excuse to be fumbling your finances.
How does football compare to finance you ask? We'll tackle a few key similarities, flagging a few finance tips along the way.
Both require game plans.
Even if your quarterback is the second coming of Johnny Unitas, you're just not going to win in the NFL calling audibles every play – you need a game plan, an overall strategy that, when executed, yields favourable results.
Like the football coach who's devised a system to give his or her team the best chance of success – scouting opponents, playing to the team's strengths, avoiding their weaknesses – you should approach your finances with that diligent approach.
Regardless of what you're doing with your money – tackling huge debts, saving for a property, or investing capital – make sure you have a sound plan to realistically achieve these end zones.
Being smart & aggressive is good.
When there's nothing separating two competitive football teams, it'll come down to whoever's willing to take a calculated risk. That can mean throwing a Hail Mary every once in a while, or taking a chance at fourth down.
Now, we're not saying to throw your body/money into a scrum with reckless abandon, but you won't know your full potential without taking some smart gambles.
For example: a young person with an eye on early retirement should look into investing in stocks, rather than conservative bonds or cash. Sure, there's certainly more risk attached to putting your money into the ever-in-flux stock market, but there's an adequate amount of proof that you can come out far ahead, too. And to facilitate something like early retirement, which is an uncommon 'plan', you'll need to do something exceptional or out of the ordinary to achieve that goal – like being smartly aggressive with your money.
Playing it safe will only get you so far!
Settling for field goals are okay, too.
Sometimes, a team's defense is so good (see: Seattle Seahawks), that touchdowns simply aren't realistic on that given night. The team will likely need to get as close as possible on the final down, and settle for the three-point conversion.
And that's okay. Settling for a field goal is still better than a goose egg, and doesn't mean you're not in a position to win.
For example, a millennial may fuss about having to lock in their spending money into something like a TFSA or RRSP. There's nothing flashy about saving smartly through these tax-free havens, and pales in comparison to friends buying cars or going on epic vacations, but can provide subtle benefits that'll boost overall wealth. Making small, low risk investments from there, like into Canada Savings Bonds, are small increments to your wealth, though they're tax-free and pure profit.
We won't deny the euphoria of getting a financial touchdown here and there, but for the most part, it's those smaller, more frequent points that'll make your finances championship-caliber.
Every once in a while, you'll take a beating.
Football can be a brutal sport, and personal finance is no different.
Sometimes, no matter how well-prepared a team is, they'll take a thrashing every now and then. Your finances, especially those that invest, will likely have tended to similar wounds after getting walloped in a similar fashion.
What's more important is coming back from that beating. If there are two elements that can carry a football player's success, its patience and resilience. In finance, those are two qualities that are invaluable to possess in saving money and debt reduction.
There are no guarantees.
One factor that's unique to the NFL – much to the dismay of the players – is it's the only professional sports league where contracts aren't guaranteed. Unlike a lot of players who wait for their big payday, and seemingly coast through the entirety of their inflated contract, an NFL player can be cut at anytime.
That uncertainty is common in finance, too. You may think that your emergency fund is ample enough, and then it ends up being well short. Or you assume this is a sure-fire investment, and you end up losing more than you put in.
With the mindset that nothing is for certain, you can plan (somewhat) against the unforeseen. Live conservatively – mixing in a few, calculated risks when the occasion calls – plan wisely, and put your money into ventures with the long game in mind.
---
Having trouble tackling those outstanding bills this month?
Magical Credit provides short term loans to anyone with a consistent source of income, and a proven debt repayment history. We specialize in poor credit loans, offering more flexibility than your average bank or payday loan company.
Contact us today at 1-877-213-2088, or fill out our online application to see if you qualify!