Ways to Pay Off Student Loans Faster
The Canadian government has developed specific national student loan services that provide and administer grants and loans to help students fund their post-secondary education. According to Statistics Canada, approximately 69% of Canadians enrolled in post-secondary institutions today use student loans. As of 2022, the total student debt outstanding in Canada was estimated to be close to $18 billion.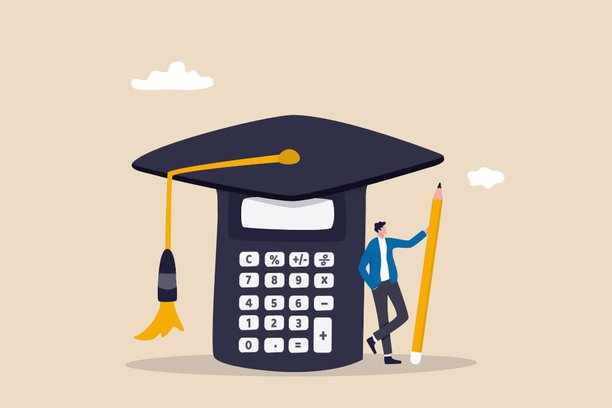 Students typically take between four to ten years after graduation to pay off their student loans in their entirety. The Canadian student loan interest rate charged is typically based on the national prime rate that is set by the central bank.
How to Pay Off Student Loans Quickly
If you currently hold a student loan and are seeking to pay it off faster to save yourself interest costs and become debt-free, here are some ways you can go about doing so.
Budget your monthly spending
Creating a budget is one of the first steps that you should take when faced with student loan repayments. This budget can be a simple view of your monthly income and expenses. Start with recording and adding up all your income sources. Next, determine your monthly debt repayments on student loans, car loans, and any other personal loans you may have outstanding. The last step is to analyze your credit card statements going back three to six months. Outline the major cost categories you spend on each month, such as food, restaurants, transportation, rent, etc.
Once you have an approximate idea of the number that you spend each month on all your expenses (including debt repayments), subtract that number from your total income to find the total net cash flow you have remaining at the end of each month. Depending on your personal circumstances and priorities, you can then use some or all of this excess cash you have remaining to pay down your student loan principal faster.
Automate payments
The practice of automating your payments can save you a substantial amount of time, money, and effort each month. Particularly if you pay your student loans on a weekly or biweekly schedule, there is merit in setting up these payments to go out from your account automatically. Once you set these payments up, you just need to ensure that you have sufficient funds each month to cover the required payment amount. Assuming that all payments are made on time, you can save yourself the hassle of manual payments and ensure that you do not get charged any late fees or additional interest costs. Ultimately, this will also strengthen your credit score over time.
Get a part-time job
Depending on your full-time work or academic schedule and other commitments, you can explore pursuing a part-time job to increase your disposable income each month. Some examples of traditional part-time jobs include working in the service industry or picking up contractual gigs such as election worker roles. However, you can also consider freelancing opportunities on sites such as Upwork or Fiverr if you have a skill such as software development, copywriting, digital marketing, etc, that is marketable to an online audience.
Part-time jobs have the dual benefit of improving your income while helping you develop new skills. The income you earn from these jobs can be used to accelerate the paydown of the principal on your student loan(s).
Consider refinancing
If you have regularly made scheduled repayments on time, you may be eligible to refinance your student loan with a private lender. Refinancing can offer the benefits of a lower interest rate, a shorter term (repayment period), or both. When considering this option, it is best to shop around your options with multiple different lenders to evaluate the different terms and conditions available to you.
However, it should be noted that refinancing does come with risks. Most notably, any student loan forgiveness or payment deferrals offered by government programs do not extend to student loans held with private lenders.
At Magical Credit, we understand that saving does not always come easy. If you require financial assistance in the transitional period when paying off your student loans, Magical Credit is there to help relieve the financial stress.
Contact our team today to learn about the flexible solutions we offer!
Frequently Asked Questions
What is the fastest way to pay off a student loan?
The fastest way to pay off a student loan is by paying over and above your scheduled repayment amount each month. You can do this by increasing your income, reducing your expenses, or a combination of both. When you increase the size of your payments, the excess amount over the minimum required payment all goes towards reducing your principal, and thereby reduces interest costs.
How long does it take to pay off a $10,000 loan?
There is no single timeframe that you can apply uniformly for a loan of any amount. The repayment period of a loan depends on a multitude of factors, including your monthly repayment amount, interest rate, loan term, etc.
For example, $10,000 at a 5% rate accrues $500 of interest each year. As a result, you can pay off the loan in 21 months if you pay $500 each month, or 11 months if you pay $1000 each month.
How can I pay off student loans aggressively?
Increasing your income with a part-time or freelancing job can provide you with more funds to use for rapid principal paydown. You can also refinance your loan (depending on eligibility) to either reduce the loan term and/or the interest rate charged.