What Are the 3 Main Components of a Personal Loan?
If you find yourself in need of cash, there are always a number of sources you can tap into. You can ask your friends or family, or you can potentially put the expense on your credit card if you are confident in your ability to repay it soon – or, you can get a loan from the bank.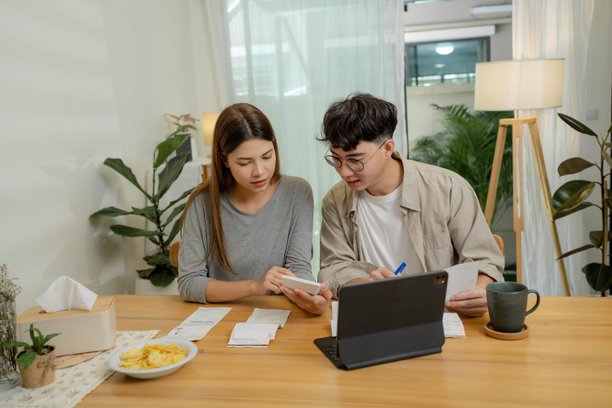 A loan that you obtain as an individual borrower is called a personal loan. Most personal loans are unsecured, meaning that you do not have to put up collateral as a borrower. The lender approves or rejects your application based on whether or not your income is sufficient to cover the monthly debt repayments.
The majority of personal loans give the borrower discretion over how they spend their funds. Some of the most common purposes for personal loans are home renovations, unexpected expenses (such as medical bills), or debt consolidation for high-interest debt. The primary goal of the personal loan is to help you with these expenses so that you don't have to wait to save up the funds required. By using a personal loan, you can pursue the required expenditure immediately, and then pay back the loan in manageable installments over time.
Understanding Loan Payments
There are three major components of a personal loan:
The principal

The interest rate + the regular payments you are responsible for making

The loan terms included in your loan agreement
Principal
Your principal is the total amount that you want to borrow. This is the headline number on your loan agreement that the lender extends to you on day 1 of the loan.
Interest
The lender will also charge an interest rate which serves as the cost of borrowing money. The interest rate is charged as a percentage of the principal, and these rates can either be fixed or variable. Fixed rates are rates that remain the same throughout the life of the loan. On the other hand, variable rates are tied to a benchmark metric (such as the 'prime rate'). As the underlying prime rate changes, the interest rate you pay on your loan can fluctuate over time.
For example, a 4% fixed rate on a $10,000 loan will be $400 a year. If you plan to hold the loan for 3 years, that's a total interest cost of $1,200. As such, your total repayment on the $10,000 loan will be $10,000 + $1,200 = $11,120.
A variable rate works slightly differently. Your lender may quote you a rate such as prime + 1%. If the prime rate is 3% at the start of the loan, your interest rate will be 4% (i.e., the same as the fixed rate example above). Now suppose the prime rate changes to 3.5%. Your new interest rate will now be 4.5%. The opposite can be true too. If the prime rate drops to 2.5%, then your interest rate charged will be 3.5%.
Most loans allow for repayment on either a weekly, biweekly, or monthly basis. It is important to make these payments on time to avoid adverse impacts on your credit score and avoid difficult conversations with your lender.
Terms
The other aspects of your loan agreement you need to keep in mind are collectively called 'loan terms' or 'loan conditions'. Some of the most common ones include:
Loan term: The total duration that the loan is extended for. All repayments need to be made within the loan term

Pre-payments: Pre-payments are repayments on your loan over and above the periodic payments due. Some lenders may allow you to pre-pay the principal on your loan if you have the financial capabilities to do so. However, other lenders may impose a penalty for loan pre-payment.

Fees: Certain lenders may charge fees such as origination fees, late fees, etc. It is worthwhile to know these fees and penalties ahead of time to ensure that you have a clear plan in place and don't have to deal with surprises later.

Security: If the loan is secured, the lender will ask you to pledge assets for collateral.

Repayment schedule: The frequency with which you have to make repayments on both principal and interest.
Factors Affecting Your Chances of Approval
Obtaining loan approval on a personal loan is a deliberate, methodical process. Several factors can impact your application, and it is worthwhile knowing them ahead of time.
Credit score
Lenders will look at your credit history and score to evaluate your creditworthiness as a borrower. Naturally, a higher score will position you well for approval. Most larger lenders require a score of 640 or above. However, you may also get approved with a lower amount depending on your previous relationship with the lender and/or other factors.

Income
Your income is arguably the most important factor impacting your application. Lenders ideally like to see a consistent history of earnings from a full-time or contract role. Insufficient and volatile earnings due to part-time jobs or job-hopping can be a barrier to approval.

Debt-to-income ratio
The lender will also check your existing debt-to-income ratio. The lower the ratio, the better it is for your chances of approval. A higher ratio means that a large portion of each dollar of income earned is being used toward the repayment of existing debts.

Assets and collateral
Lastly, the collateral you can put up or the assets that you have on hand that you can sell to pay off the loan are the final consideration.
If you find yourself in a position where one of the above factors is a barrier to obtaining a potential personal loan, Magical Credit is here to help! As a reputed private lender, we work in partnership with borrowers to evaluate their unique financial scenarios and offer sound, customized solutions. We have worked with thousands of borrowers across the country to help them gain access to capital as and when they need it – contact our team today to learn how we can help you!