What Is an Emergency Fund, and How Do You Build One?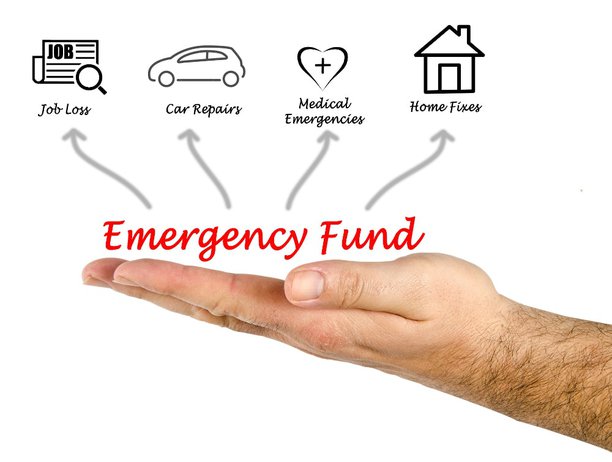 What Is an Emergency Fund, and How Does It Work?
An emergency fund is a backup plan for your finances in case you ever experience setbacks that cost a sizable sum of money, or hinder your ability to earn more in the near term. As the name suggests, an emergency fund is a sum that is intended to serve as a reserve to be tapped into only in case of an emergency. These emergencies may include circumstances such as:
An unexpected car or home repair expense

Day-to-day expenditures when faced with the loss of a primary income source

Unforeseen medical expenses towards a family member or pet
Unlike a regular checking or savings account, emergency funds are not to be used for daily expenses, or to save up for a large purchase in future - in fact, many experts advocate for your emergency fund to be a separate account entirely that you don't access at all unless you absolutely need to.
A person usually starts by putting aside a portion of their income on a weekly, biweekly, or monthly basis. This money is typically the residual amount of income left after all necessary expenses have been taken care of. These funds then continue to accumulate in their account until the person meets their emergency fund size target, at which point they can stop sectioning off part of their income every period.
In the case of a true emergency, your emergency fund can be tapped into to help meet immediate expenses and obligations, or to tide you over until your new job.
Which Type of Emergency Fund Is Right for You?
The general rule of thumb for the size of an emergency fund ranges from three to six months of your monthly living expenses, including rent/mortgage payments, food, transportation, mandatory debt repayments, and other necessary costs.
Depending on your personal circumstances, you may decide to opt for a 3-month or 6-month emergency fund (or even longer!). Generally speaking, an emergency fund worth three to four months of expenses is appropriate if you:
Do not owe any major debts to a lender

Are relatively healthy and are not prone to sickness

Live in an area with low-cost living expenses

Don't have more than a single dependent

Have a stable job and career prospects

Can tap into a network of family and friends for financial support if needed
However, an emergency fund worth six or seven months of expenses may be more prudent if you:
Have a material amount of other debts (such as student loans, car loans, etc.)

Have a pre-existing medical condition

Live in an area with high-cost living expenses

Support more than one dependent

Work in a seasonal or freelance capacity

Cannot tap into a network of family and friends for financial support
How to Build an Emergency Fund
Building an emergency fund does not always need to be complex - in just six easy steps, you can start putting away money to withdraw on a rainy day.
Set your goals
Assess your personal circumstances and determine whether a 3-month or 6-month goal suits your profile and financial needs better. You may also choose to save up more than 6 months of living expenses if you want to be extra cautious.


Choose your account
The two best vehicles for an emergency fund are the Tax-Free Savings Account (TFSA) or a high-interest savings account (HISA). The advantage of a TFSA is that it offers the flexibility to make tax-free withdrawals of your money. On the other hand, HISAs offer additional growth on your deposits, which can accelerate your journey towards your emergency fund goals.


Calculate living expenses for one month
Go through your historical bank statements to identify the main expenses you incur each month. For this calculation, focus only on the needs, and not the wants. In an emergency environment, you will have to continue paying for food, utilities, rent, etc. - however, you are unlikely to travel or eat at fancy restaurants at such a time.


Multiply
Based on the number of months you selected in Step 1, multiply the living expenses number in Step 3 accordingly. For example, if you selected 3 months and calculated your monthly living expenses to be $2,500, then you will want to save $2,500 x 3 months = $7,500 in your emergency fund.


Automate your goals
The key to building an emergency fund is discipline. You can establish this discipline throughout your personal finances by setting up an automatic deposit from your checking account into your emergency fund account each month.


Find new ways to increase your savings amount
Even after you have automated your emergency fund, you can still find other ways to grow it at a quicker pace. If you have a marketable skill that you can sell online, consider a career in freelancing, or, if you are a student, check what scholarships or grants you may be eligible for. If you are in need of urgent funds as a student, it is pertinent to note that many universities have student emergency fund programs that are aimed at providing quick relief to cash-strapped students.
Final Thoughts
An emergency fund is a great tool that can help you meet near-term expenses without resorting to high-interest facilities such as credit cards or payday loans. If you find yourself facing a financial emergency, or simply want to be proactive in setting up your emergency fund, contact our team at Magical Credit. We look past non-traditional income sources and credit scores to provide fair outcomes to borrowers.
Our team can help assess your individual needs and select borrowing solutions that empower you to bridge your funding gaps without compromising on your financial stability.